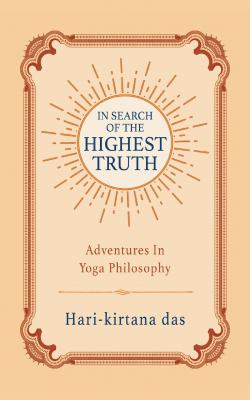 In Search of the Highest Truth (Paperback)
Adventures in Yoga Philosophy
Jagat-Mangala Press, 9780998077307, 166pp.
Publication Date: March 23, 2017
Description
If you want to understand the philosophy of yoga, this book is for you.
In Search of the Highest Truth is a trip into yoga's spiritual dimension that offers readers an unconventional approach to discovering the enduring relevance of ancient yoga wisdom.
This book is a must for yoga teachers who want to integrate the philosophy of yoga into their classes and yoga practitioners who want deepen their experience of yoga.
Here's what you'll learn: -A brief history of yoga philosophy -The functions of yoga philosophy -The relationship of yoga and religion -The ethics of yoga -How yoga philosophy reconciles destiny and free will -Strategies for reading traditional yoga wisdom texts -How to develop spiritual vision -How to apply the principles of traditional yoga philosophy to life in the modern world.
Yoga philosophy provides compelling answers to life's most important questions, offers practical solutions to life's greatest challenges, and radically transforms our experience of the world. In Search of the Highest Truth will deepen your experience of yoga and clear a joyous path to living a spiritual life in the material world.
"Here is a carefully conceived book that will be appreciated by students and teachers alike as an excellent introduction to yoga philosophy." - Joshua M. Greene, author of Swami in a Strange Land: How Krishna Came to the West
"Hari-kirtana das makes central ideas from the classic texts of yoga easy to grasp and, with just enough cheeky style, shows us how several commonplace 'truths' of yoga trip over their philosophical shoelaces." - Jayadvaita Swami, author of Vanity Karma: Ecclesiastes, the Bhagavad-gita, and the meaning of life
"In Search of the Highest Truth is eminently readable, engaging, and definitely fills a gaping hole in the popular literature on yoga." - Carol Horton, author of Yoga, Ph.D.: Integrating the Life of the Mind and the Wisdom of the Body
"This companion to the most seminal yoga texts is full of wit and clarity - an excellent resource for advanced trainings or individual study." - Beth Filla, owner and director of yoga teacher training at Yogawood in Collingswood, New Jersey
About the Author
Hari-kirtana das teaches the art of finding happiness and meaning through simple practices of traditional, devotional yoga. A lifelong student of yoga, meditation, and Eastern spiritual philosophies, Hari-kirtana lived full-time in devotional yoga ashrams and intentional spiritual communities from 1977 to 1981 and again from 1995 to 1998. He was formally initiated into the Gaudiya Vaishnava lineage of Bhakti Yoga in 1978. Hari-kirtana is an E-RYT 500 registered yoga teacher with Yoga Alliance and received an 800 hour training certification from the Jivamukti Yoga School. With the encouragement of his teachers, he began teaching contemporary yoga classes in 2009. He has since gone on to develop Yoga Teacher Training courses and is a sought-after guest teacher for numerous Yoga Teacher Training programs. He leads yoga workshops, offers presentations for personal and professional development, and regularly takes students on yoga adventures to India. He currently lives and teaches in Washington, D.C.
Praise For In Search of the Highest Truth: Adventures in Yoga Philosophy…
"Here is a carefully conceived book that will be appreciated by students and teachers alike as an excellent introduction to yoga philosophy." - Joshua M. Greene, author of Swami in a Strange Land: How Krishna Came to the West

"Hari-kirtana das makes central ideas from the classic texts of yoga easy to grasp and, with just enough cheeky style, shows us how several commonplace 'truths' of yoga trip over their philosophical shoelaces." - Jayadvaita Swami, author of Vanity Karma: Ecclesiastes, the Bhagavad-gita, and the meaning of life

"In Search of the Highest Truth is eminently readable, engaging, and definitely fills a gaping hole in the popular literature on yoga." - Carol Horton, author of Yoga, Ph.D.: Integrating the Life of the Mind and the Wisdom of the Body

"This companion to the most seminal yoga texts is full of wit and clarity - an excellent resource for advanced trainings or individual study." - Beth Filla, owner and director of yoga teacher training at Yogawood in Collingswood, New Jersey
Advertisement