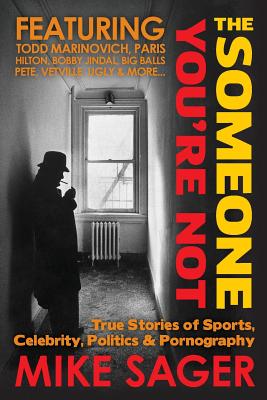 The Someone You're Not--University Edition
True Stories of Sports, Celebrity, Politics & Pornography
Paperback

* Individual store prices may vary.
Description
Bestselling author Mike Sager's fourth collection showcases his deftly-written journalism at its best and most mature, a riveting marriage of crime reportage and you-are-there literary anthropology.

The book's centerpiece examines the rise and fall of football RoboQuarterback Todd Marinovich--a previously unpublished, thirty-plus thousand word "nonvella" version of his ASME-award winning Esquire story, the inspiration for ESPN's acclaimed documentary, The Marinovich Project. Other true stories include up-close visits with super-celebrity Paris Hilton, South Asian Republican hopeful Gov. Piyush "Bobby" Jindal, Ultimate Fighting Championship impresario Dana White, and coaching phenom Pete Carroll.

Plus: A man who spent twenty-nine years in prison for a crime he did not commit. A Muslim immigrant who worked to save the life of the white supremacist who tried to kill him. The best-dressed man in America. An ugly guy in a town that worships beauty. A farm in the mountains where wounded marine veterans are taking care of their own. And "The Porn Identity," where a divorced dad takes to the road to find former starlets and to rediscover his mojo.

"Mike Sager writes with uncommon grace and, always, with respect for those who give him their time. His stories cut to the bone of our common humanity."
-Paul Hendrickson, author of Seminary and Hemingway's Boat, on The Someone You're Not
Sager Group LLC, 9780998079301, 272pp.
Publication Date: September 12, 2012
or
Not Currently Available for Direct Purchase