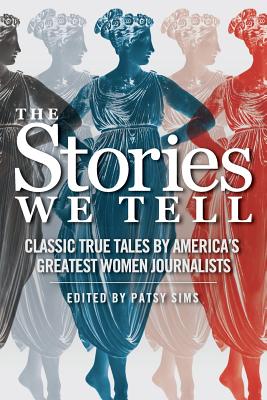 The Stories We Tell (Paperback)
Classic True Tales by America's Greatest Women Journalists (Tsg's Women in Journalism #3)
Sager Group LLC, 9780998079318, 410pp.
Publication Date: August 27, 2017
* Individual store prices may vary.
Description
The Stories We Tell celebrates the work of twenty women who have made major contributions to the canon of American magazine writing.
While each has her own style, the women in these pages share the attributes of all good writers: meticulous research and reporting, attention to detail, a talent for choosing the perfect word. Above all, they are astute observers and sticklers for accuracy. Over the years, they have been both prolific and versatile, writing about a wide range of topics, including Joan Didion's landmark story about a suburban California woman convicted of burning her husband to death in their family Volkswagen, Susan Orlean's profile of a female bullfighter, Lillian Ross's stylish Talk of the Town pieces, Janet Malcolm's profile of the brilliant young pianist Yuja Wang, Gloria Steinem's memorable piece about Jackie Kennedy after the death of her husband, President John F. Kennedy, and Robin Marantz Henig's poignant account of the determination of one Alzheimer's victim to end her life on her own terms.
Stories by: Madeleine Blais, E. Jean Carroll, Joan Didion, Melissa Fay Greene, Lis Harris, Robin Marantz Henig, Gerri Hirshey, Elizabeth Kaye, Jeanne Marie Laskas, Adrian Nicole LeBlanc, Jill Lepore, Suzannah Lessard, Janet Malcolm, Susan Orlean, Lillian Ross, Susan Sheehan, Gloria Steinem, Mimi Swartz, Joyce Wadler, Isabel Wilkerson.
The Stories We Tell is part of The Sager Group's Women in Journalism series, which honors the contributions women have made (and continue to make) to the evolution of graceful literary reportage in America and around the world.
"What a treasure trove The fact that these stories are all written by women makes this book even more intriguing. How wonderful to be part of this vibrant and beautiful anthology."
-Susan Orlean, author of eight books, including The Orchid Thief.
"This is the collection I wish I'd had when I was starting out as a writer. Back then, non-fiction was the purview of men; here's an unequivocal affirmation that it no longer is."
-Elizabeth Kaye, author of six books, including Lifeboat No. 8.