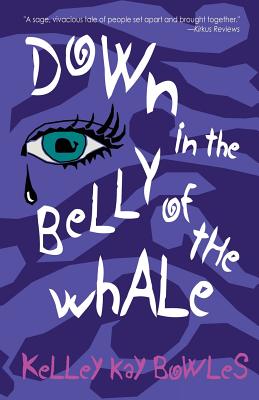 Down in the Belly of the Whale
Paperback

* Individual store prices may vary.
Other Editions of This Title:
Hardcover (5/5/2018)
Description
How far would you go for a friend? For fans of Alison Gervais's In 27 Days, and classic girls lit of Louisa May Alcott, LM Montgomery, Eleanor Porter
Harper Southwood is a teenage girl who can sense when people will get sick--but so what? She can't predict her best friend's depression or her mother's impending health crisis. Being helpful is all Harper ever wanted, but she feels helpless in the face of real adversity. Now, she's got a chance to summon her courage and use her wits to fight for justice. Laugh and cry along with this cute, high-spirited teen in her astonishing journey of self-discovery, as she learns that compassion and internal strength are her real gifts, her true superpower.
FROM THE COVER:
My name is Harper, and I'm almost sixteen. Along with the typical teenagery turmoil, I have this bizarre ability to know when you're gonna get sick. But so what? My supernatural sense won't help you avoid that nasty flu bug--because if I feel it, you've already got it. It doesn't help me heal my best and only friend, Cora--she's filled with so much fear and anguish. It doesn't help my mom, because there's something big and bad already inside her, and I haven't felt a thing. This isn't a gift; it's a curse.
EDITORIAL REVIEW:
". . . Bowles . . . clearly understands the world of young adults. Her depiction of Harper--her anxieties and excitability; her inner and outer personas; her heightened sense of the importance of "now"--cannot fail to pull readers into a teen mindset. The story is increasingly dark, yet in the telling it neither wallows nor depresses. Harper is allowed strength in her vulnerability. For all her isolation, it is her empathy that makes her special. There is a message here but not one that is pushed beyond the pale. Bowles writes to engage and to confront yet always seemingly with the intent to uplift. The resulting novel, far from being a leaden treatise on teen suffering, spurns literary pretensions and strives instead to include Harper's generation of young adults and give this group its due. Girls especially will relate, but there is room here for everyone.
A sage, vivacious tale of people set apart and brought together."
--Kirkus Reviews (a Kirkus recommended review)
Aionios Books, 9780998084473, 240pp.
Publication Date: May 5, 2018
or
Not Currently Available for Direct Purchase