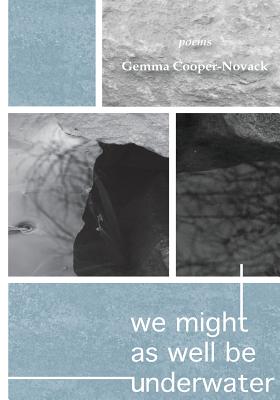 We Might as Well Be Underwater
Paperback

* Individual store prices may vary.
Description
We Might As Well Be Underwater is a collection of poetry split into two parts: Travelling and Not Travelling. Cooper-Novack lyrically discusses family, love, death, aging, and illness through travels. The collection travels through Cape Town, Sydney, Venice, Moscow, Chicago, Antarctica, London, Tokyo, Oregon, Florida, and many more places while also uniting the world through experiences. Readers will enjoy the sense of space and how certain memories or ideas are sprung from a specific environment. Throughout her travels Cooper-Novack explores many spaces, cleverly exposing emotion in places revisited and sharing memories in new environments. They will both feel foreign and familiar as she leads us to both specific and general places (places that are described and could be in any community). Cooper-Novack lyrically composes stanzas that discuss the journey of life through aging and travels while also discovering home.
Unsolicited Press, 9780998087245, 64pp.
Publication Date: January 18, 2017
About the Author
Gemma Cooper-Novack is a writer, arts educator, and writing coach. Her poetry and fiction have appeared in more than twenty journals, including Ballard Street Poetry Journal (Pushcart Prize nomination), Bellevue Literary Review (Pushcart Prize nomination), Cider Press Review, Hanging Loose, Santa Fe Writers Project, and Printer's Devil Review. Gemma's plays have been produced in Chicago, Boston, and New York, and she diablogs on sinnerscreek.com. She has been awarded multiple artist's residencies from Catalonia to Virginia and a grant from the Barbara Deming Fund, and enjoys baking cookies and walking on stilts in her spare time.