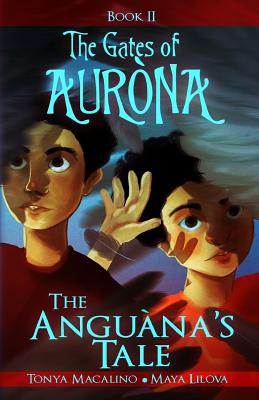 The Anguana's Tale
The Gates of Aurona Chapter Book Series
Paperback

* Individual store prices may vary.
Description
MAGIC ONCE MET... Spina de Mul vanished into the night, leaving only the ashes of magical poppies; the Congress of Marmots disappeared from the Between woods, leaving only the echo of their sad story. But Hannah and Cameron understand now that the world is much more magical-and dangerous-than they ever knew. When a flock of turkey vultures blacks out the sun, Hannah and Cam realize the ancient saga of their father's people is beginning anew _________________ Clang, clang, clang: The sword against the golden gate. The treasure waits within.
Crystal Mosaic Books, 9780998113630, 212pp.
Publication Date: April 3, 2017
About the Author
TONYA MACALINO lives in that space Between-where the crossroads of past and present tease the senses, taunts the almost-memory. Haunted by story, she seeks it in the shadowy landscapes of history and in the blinding glare of what-may-come, both alone and with her family of children's book authors: Raymond, Damien, & Helena Macalino. Need another glimpse behind the veil? Subscribe to Tonya's Reader Group at www.tonyamacalino.com for free books, guides, videos, and more! You can also drop by and chat with her on Facebook at www.facebook.com/TonyaMacalino or on Twitter @TonyaMacalino. Got grown ups? Send them to Tonya's website to learn more about her national award-winning supernatural thrillers for adults, SPECTRE OF INTENTION and THE SHADES OF VENICE series! ____________ MAYA LILOVA is a humble illustrator from Sofia, Bulgaria who loves reading-and drawing-a good story. You can find her at www.mayalilova.com for an assortment of artwork or on www.facebook.com/scruffydays for a friendly chat.
or
Not Currently Available for Direct Purchase