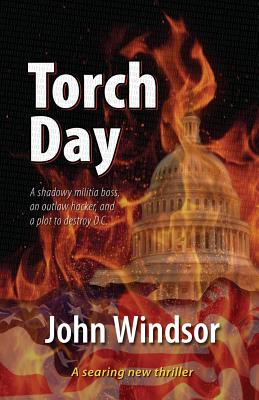 Torch Day (Paperback)
A Searing New Thriller
CT Press, 9780998131023, 384pp.
Publication Date: November 1, 2016
* Individual store prices may vary.
Description
"The time for words is through, gentlemen. Each one of you has preached to the world about the Founding Fathers." His voice dropped to a whisper. "Now it's time to be one." With that, the shadowy militia leader known as "The Commander" rallies militia groups from across the nation for an all-out assault on Washington D.C. Joining them is outlaw hacker Jeff Barnett, who has brought his diabolical skills to a dangerous new playground. His first target: the President of the United States.
FBI agents Harry Harper and Ellen King go undercover to try to derail their plans, but when Harry's cover is blown, he finds himself chained to a mysterious suitcase whose contents could reshape the future of America.
As Harry, the deadly suitcase, and the militia squads race towards D.C., Ellen has to dodge rogue elements in the FBI that are trying to kill her. Going underground, she rallies a select group of FBI agents to help her find Harry and stop the militia forces - before things explode on Torch Day. PRAISE FOR "TORCH DAY" "Torch Day rings a true bell in our current world of espionage and crazy politics, with characters who last long after the read. They aren't plastic superheroes, they are normal people dealing with extraordinary circumstances--like us. Couldn't stop reading--disturbing and uplifting in the same breath. Like Shakespeare, the plot is complicated, the good guys aren't all good, and the bad guys, though not all bad, go beyond evil." --- Kate Motley "Well crafted and fast moving. Many surprises along the way kept me going to the next page. If you like a plot with many unexpected twists and turns you will love this book. Will look forward to more from this writer." --- Carol K. "Torch Day includes a lot, I mean a lot of action. John Windsor ads a very interesting twist and the ending is intense." --- Ken Crab.
About the Author
John became hooked on thrillers as a kid growing up in Phoenix, AZ. He developed his ear for dialog, plot, and character development as an actor on Broadway. He expanded his creative brain in marketing and advertising as an expat in London, busy writing corporate fiction. He became an award-winning blogger on presentations while living in the heart of Silicon Valley, where the idea for a novel suddenly hit him. One novel led to two, and a third one is percolating right now. John lives in Colorado with his wife and is the proud father of two sons.