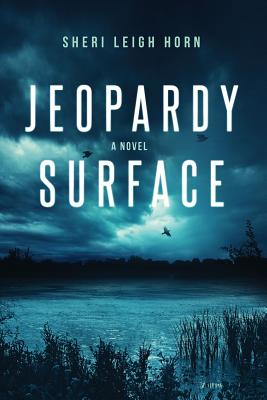 Jeopardy Surface
Paperback

* Individual store prices may vary.
Other Editions of This Title:
Hardcover (3/1/2017)
Description
JEOPARDY SURFACE marks the debut of a compelling new crime series featuring a one-of-kind protagonist and cutting-edge investigative techniques that will have you turning pages late into the night.
It's the witching hour and Special Agent Regan Ross is having a WTF kind of night. Morning? How the hell did she get from her bed to her front yard? And why is she holding a loaded firearm? Sleepwalking doesn't bode well for the rising star in the FBI's Behavioral Analysis Unit, but whatever is causing her recent weight loss and bizarre nocturnal activities will have to wait. The phone is ringing. It's probably her sister Erin, the surgeon who knows best, demanding to know her plans for the holidays. Why would this year be any different? They'll spend the somber anniversary and Christmas like always--drinking too much, watching Turner Classic Movies, and not talking about their dead parents. Caller ID provides yet another surprise.
Hearing Special Agent Robert Haskins' voice for the first time in six months has Regan reeling. The mention of Maryland's Eastern Shore conjures images of Jennifer Abbott, the student-athlete whose disappearance from a small campus is national news. There are complications. For starters, her areas of expertise--geographic profiling and predictive analysis--require a lot of information from a series of crimes. Single murders typically aren't her purview and involving herself in an investigation to which she has not been officially assigned will send the BAU chief's blood pressure through the roof. She should say no, but she won't. There's too much residual guilt where Rob Haskins is concerned.
Regan Ross knows bad, and this one is BAD. The killer has left the mutilated body and a cache of troubling clues at a remote farm and posted the coordinates of the cache on a popular geocaching website. Is he taunting investigators? Expediting the discovery of his work? Both? The calculated modus operandi and uniquely sadistic signatures are not the work of a novice, and Regan is sure of one thing: he will kill again.
When visiting forensic psychologist Dr. Sheridan Rourke presents a lecture at Quantico featuring closed cases from Northern Ireland, Regan makes a shocking connection between an older series of murders and the Maryland case. Despite the Police Service of Northern Ireland's insistence to the contrary, Regan and Rourke are convinced the killer of five women in Belfast two years ago is hunting women on the Chesapeake Bay. As the two become unlikely partners, Regan learns the psychologist's past may be as haunted as her own.
Perpetuity Publishing, LLC, 9780998132600, 360pp.
Publication Date: March 1, 2017