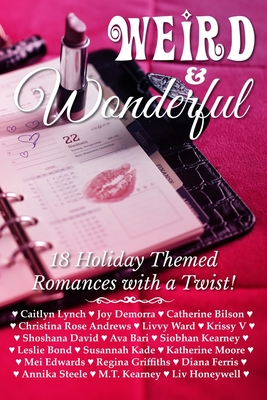 Weird & Wonderful Holiday Romance Anthology
Eighteen holiday themed romances featuring unlikely and unusual holidays of all stripes.
Paperback

* Individual store prices may vary.
Description
Helmed by USAT Bestselling Author Caitlyn Lynch, eighteen authors explore several lesser-known holidays. Featuring sweet country romance and sex in the big city, there's something for all romance readers. Polar bear plunges. Sexy neighbors. Even a cute shifter or two. This anthology has it all
Come celebrate the year with us
*
Taking the Plunge - Shoshana David
Phoebe and the Pea - Catherine Bilson
The Boy Next Door - Mei Edwards
A Holiday (or Two) to Remember - Christina Rose Andrews
The Editor - Siobhan Kearney
Easy as Pi - Leslie Bond
Lip-Locked Besties - Livvy Ward
Melting Hearts - Annika Steele
Wrong Number - Krissy V
Naked Attraction - Liv Honeywell
A Guide to Playing Rich - Ava Bari
Finding Pride - Diana Ferris
Dane's Redemption - Susannah Kade
Dear Dolly - M.T. Kearney
The Seadog's Wife - Katherine Moore
Feral Heart - Regina Griffiths
Crewel Intentions - Joy Demorra
Unlawfully Ugly - Caitlyn Lynch
Roselark Publishing, 9780998168425, 632pp.
Publication Date: November 5, 2019
or
Not Currently Available for Direct Purchase