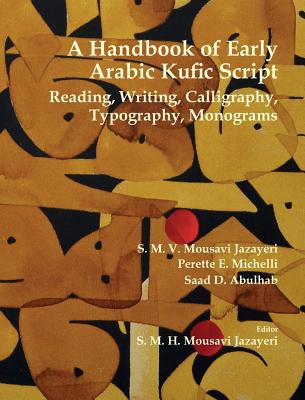 A Handbook of Early Arabic Kufic Script (Hardcover)
Reading, Writing, Calligraphy, Typography, Monograms
Blautopf Publishing, 9780998172743, 300pp.
Publication Date: January 17, 2017
* Individual store prices may vary.
Description
A comprehensive textbook of the early Arabic Kufic script, written as a complete reference book for calligraphers, designers, and students of art history and the history of Arabic language and scripts. This beautiful and powerful script was derived from the earlier Hijazi Mashq style of Mecca and Medina, which was invented by early Muslim scribes to record the Quran. Today, the many historical manuscripts displayed in numerous museums around the world can attest to development and evolution of this remarkable and versatile script. Authored by master calligrapher, Mousavi Jazayeri, this book is the only book written in English that is solely dedicated to the study, learning and revival of the fascinating script behind the first mature Arabic calligraphic style, which was the official script of the Islamic Near East for centuries, before being replaced by the modern Naskh style. In this handbook, Mousavi Jazayeri who had discovered the lost art of cutting the qalam (pen) for early Kufic more than twenty years ago, explains with detailed, clear illustrations how to write early Kufic using a calligraphic pen and even a regular pen. He guides students patiently through the process involved in creating amazing, modern monograms. With clear, ample examples taken from the old Quranic manuscripts, art history students, font designers, and scholars of the history of the Arabic language and scripts can use this reference book to learn the key aspects of the early Kufic script as a writing system. Mr. Mousavi Jazayeri is joined by two co-authors, Perette E. Michelli, a multi-disciplinary historian of medieval and later art, and Saad D. Abulhab, a known Arabic type designer and independent scholar of the history of Arabic language and scripts. The two co-authors are members of the first international group dedicated to the study and revival of the early Kufic script, Kuficpedia, which was formed a few years ago around the historical achievements of Mr. Mousavi.