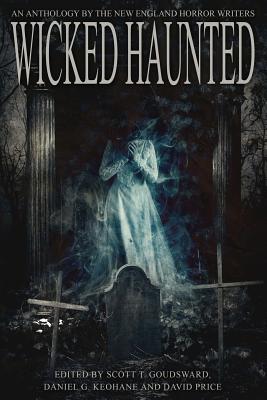 Wicked Haunted
An Anthology of the New England Horror Writers
Paperback

* Individual store prices may vary.
Description
Ghost stories, from local myths to full blown horror shows, have been spun around campfires since the dawn of man, passed from generation to generation for edification or simply to frighten and thrill. They lead us along dark side roads, into murky swamps and abandoned houses. Ghost stories bring us face-to-face with the farmer harboring secret graves behind his barn, the old man living next to the cemetery, or the frightened person staring back at you from the mirror. They haunt the listeners and readers and make them want to re-tell them again and again, so they would not be alone in their fear.The New England Horror Writers are proud to present their fifth anthology: Wicked Haunted. Featuring fiction and poetry from Matt Bechtel, Tom Deady, GD Dearborn, Barry Lee Dejasu, Peter N. Dudar, Jeremy Flagg, Dan Foley, doungjai gam, Emma J. Gibbon, Larissa Glasser, Patricia Gomes, Curtis M. Lawson, Bracken MacLeod, Nick Manzolillo, Paul McMahon, Paul R. McNamee, James A. Moore, R.C. Mulhare, Rob Smales, Morgan Sylvia, Dan Szczesny, KH Vaughan and Trisha J. Wooldridge. Interior artwork by Ogmios, Judi Calhoun and Kali Moulton. Cover art by Mikio Murakami.
Nehw Press, 9780998185415, 274pp.
Publication Date: October 11, 2017
About the Author
The New England Horror Writers (NEHW) provides peer support and networking for authors of horror and dark fantasy in the New England Area. NEHW is primarily a writer's organization, focusing on authors of horror and dark fiction in all mediums (novels, short stories, screenplays, poetry, etc) in the New England area. We are also open to professional editors, artists & illustrators, agents and publishers of horror and dark fiction. NEHW activities include book signings, readings, panel discussions at conventions, and social gatherings. With members ranging from Maine to Connecticut, NEHW events take place in varying locations in an effort to provide support for our members throughout New England. Find us on facebook or at www.newenglandhorror.org.