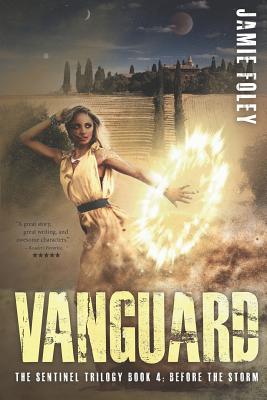 Vanguard
Before the Storm (Sentinel Trilogy #4)
Paperback

* Individual store prices may vary.
Description
The war is over, but the Revoth want their land back. Kidnapping, ransom, and slavery fund their terrorism, but bombing Jet's hometown was the final straw.
Viper Unit is dispatched to take the Revoth down. But the special forces have no need for a mind-reading 'fairy'--unless Jet can prove himself as a sniper.
Sorvashti's clan demands she take one of the seven oaths, but her father's political status has already chosen for her--and made her a prime target for ransom.
When Jet and Sorvashti meet behind enemy lines, revenge intertwines with survival... and a spark between them neither can ignore.
Fayette Press, 9780998207810, 204pp.
Publication Date: November 25, 2016
About the Author
YA fantasy author Jamie Foley loves strategy games, home-grown berries, and Texas winters. She's terrified of plot holes and red wasps. Her husband is her manly cowboy astronaut muse. They live between Austin, TX and their family cattle ranch, where their hyperactive spawnling and wolfpack can run free.