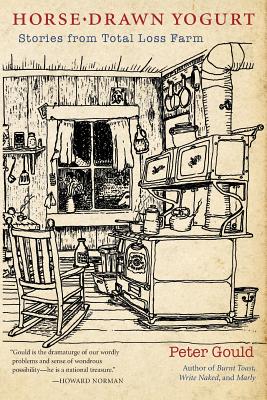 Horse Drawn Yogurt (Paperback)
Stories from Total Loss Farm
Green Writers Press, 9780998260488, 212pp.
Publication Date: May 12, 2017
* Individual store prices may vary.
Description
Horse Drawn Yogurt is a book of stories about Peter Gould's decade on Total Loss Farm in Vermont. Peter moved to Vermont in the back to the land movement and turned all the living, eating, smoking, dancing, and loving, and gardening into fiction: his first novel Burnt Toast (Alfred A. Knopf, 1972) brought all that together. His second novel Write Naked (Farrar, Straus & Giroux, 2009) won the National Green Earth Book Award for Young-Adult eco-fiction. Now, in Horse Drawn Yogurt, Gould has created a patchwork of true stories of farm life. In these stories you'll learn how locals and newcomers helped each other out in a pivotal moment of history, and how young people new to the land learned how to tend gardens and farms, while belonging to a national movement--against the Vietnam war and for peace and justice around the world.
"This book is not a memoir," Gould says. "It's a comforter. I didn't throw all those old clothes away. I cut and pieced them and sewed them together. Now they keep me warm."