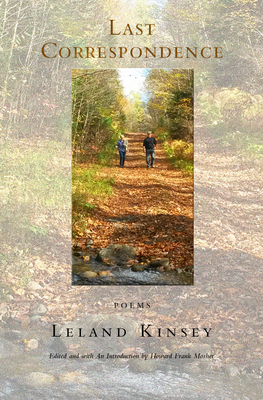 Last Correspondence (Paperback)
Poems
Green Writers Press, 9780998260495, 80pp.
Publication Date: May 26, 2017
* Individual store prices may vary.
Description
Leland Kinsey long deemed the unofficial poet laureate of the Northeast Kingdom Kinsey was a private person, neighbors say, who grew up on the southern Orleans County farmland his Scottish ancestors helped settle in the early 1800s. By age 10, he was running a chain saw, tractor and truck when not reading library books he carted home in a cardboard box. Writing came with the help of Mosher, who was Kinsey's teacher at both Lake Region Union High School in Barton and the University of Vermont. After earning a master's degree at New York's Syracuse University, Kinsey returned home in 1976 to work as a farmer, carpenter, logger, sugarmaker, Morgan horse trainer, printer, and teacher of birding, canoeing and astronomy, all while producing eight collections of poetry.

As a poet, Kinsey worked and played with time. Take the title poem of Winter Ready, which he released two years ago on the first day of spring. It begins in a peat bog in fall, then rewinds to the song of wood frogs and sight of tree sparrows in April, then back to the glacial plowing of this whole part of the world, then ahead to a less-distant past of loggers funneling wood downstream and, finally, a present of a lone bull moose feeding, its rack strung with water lily and spatterdock stems.

I noted the occasional leatherwood/shrub in case I need to peel one/in my winter treks, to use the impossibly/resilient bark as repairing thong/for snowshoe or toboggan lash./I ve had to work my way alone before/and still decline to be at the end/of any electronic leash, though/signals here would be distant and poor.

Diagnosed with lymphoma last year, Kinsey kept writing even when a stem cell transplant confined him to a hospital bed. By spring, he was touring the state with his latest collection, the 2016 Green Writers Press title Galvanized, when not fishing with Mosher. But after traveling abroad this summer to visit his daughter in the Peace Corps, Kinsey returned home and experienced a relapse. He is survived by the wife he knew for a half-century, Lesley, their four children and three grandchildren, and his mother, sister and two brothers. Among the colleagues he leaves behind is fellow scribe and sugarmaker Brett Ann Stanciu, who called him premier among Vermont writers, exquisitely gifted, a man who wrote of the myriad ways the earth giveth and the earth taketh. Kinsey noted such transitions at the end of Winter Ready, which concludes with the poet looking and listening for night owls: Everything that does not migrate/has fattened up, bedded down, /cocooned up, seeded itself./Life's two principles /reproduce; survive to reproduce again./By this process the world is brought/back to us as we know at winter's end./And by this process, even beyond/the evident hand of man, the world/slowly changes utterly. In The Long Correspondence, due out in time for the Vernal Equinox, Kinsey told his publisher it was his "best work to date."