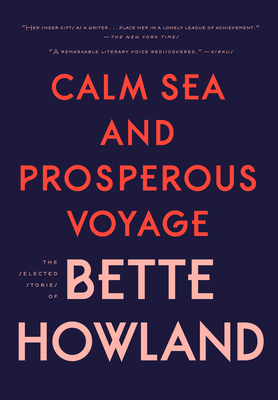 Calm Sea and Prosperous Voyage (Hardcover)
Public Space Books, 9780998267500, 336pp.
Publication Date: May 14, 2019
* Individual store prices may vary.
Description
"This achingly beautiful book throbs with life, compassion, warmth, and humor."--Kirkus, starred review "This story collection reinstates a long-overlooked artist of live-wire incisiveness, shredding wit, and improbable beauty... Howland's intrepidly autobiographical stories feel brand-new."
--Booklist, starred review A BuzzFeed Amazing New Book to Add to Your Spring Reading List
A Publishers Weekly 2019 Summer Read
Chosen for Vol1 Brooklyn's May Book Preview
An AV Club New Book to Read in May 2019
One of Vanity Fair's Best Spring Launches
A Dandelion Chandelier Best New Book, May 2019
One of Inside Hook's 7 Books You Should Read, May 2019
A Booklist Best New Book
One of All the Books Podcast from Book Riot Best New Books of the Month
A Contributing Editor pick for the Paris Review
One of Bustle's 25 New Short Story Collections to Read this Summer
A Vogue.com Best Book for Summer
Chosen for Jewish Week's Summer Reading List
A Chicago Public Library Best Book of 2019 So Far
A Chicago Public Library July 2019 Staff Pick
Chosen for WTTW Chicago Tonight's Summer Reading List
Chosen for Chicago Magazine's A Very Chicago Summer Reading List This spring, with the publication of Bette Howland's CALM SEA AND PROSPEROUS VOYAGE, A Public Space Books restores to the literary canon an extraordinarily gifted writer, who was recognized as a major talent, with Guggenheim and MacArthur "genius" fellowships, before all but disappearing from public view for decades, until nearly the end of her life when she was rediscovered. Bette Howland herself was an outsider--an intellectual from a Jewish working-class neighborhood in Chicago; a divorc e and single mother, to the disapproval of her family; an artist chipped away at by poverty and self-doubt. Each of these facets plays a central role in her work. Saul Bellow, Howland's mentor, champion, and (for a time) lover, urged her to mine her deepest emotions for her art. It was a model for writing she embraced. With direct and powerful use of language in the tradition of Lucia Berlin, Kathleen Collins, and Grace Paley, Bette Howland chronicles the tensions of her generation. She is a wry, brilliant observer, and a writer of great empathy and sly, joyous humor. CALM SEA AND PROSPEROUS VOYAGE showcases the full formal and emotional range of a brilliant writer in a collection that spans the entirety of her career.
About the Author
Bette Howland (1937-2017) was the author of three books: W-3, Blue in Chicago, and Things to Come and Go. She received a MacArthur Fellowship in 1984, after which though she continued writing she would not publish another book. Near the end of her life, her stories found new readers when a portfolio of her work appeared in a special issue of A Public Space magazine exploring a generation of women writers, their lifetimes of work, and questions of anonymity and public attention in art.