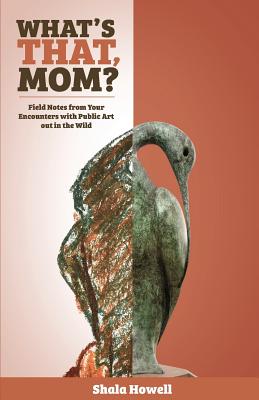 What's That, Mom? (The Journal)
Field Notes from Your Encounters with Public Art out in the Wild (Caterpickles Parenting #2)
Paperback

* Individual store prices may vary.
Description
"I think, at a child's birth, if a mother could ask a fairy godmother to endow it with the most useful gift, that gift would be curiosity."
Every time your child asks you a question, what he or she is really doing is inviting you to have a conversation.
The wonderful thing about public art is that it is all around us, sparking our children's curiosity and prompting these sorts of conversations.
The terrible thing about public art is that it's art, and art feels like one of those subjects you can't talk about unless you have a degree in it or a talent for making it.
This journal is designed to offer families a structure for exploring public art together. Completing these pages with your children will help you get those conversations about art going.
My hope is that this journal will help you deepen your relationship with your children and build memories that your entire family will recall fondly later on. If in the process, I can help you convert public art from something you exclaim over vaguely into something you actively explore with your children, so much the better.
Caterpickles Press, 9780998289137, 96pp.
Publication Date: May 18, 2018
or
Not Currently Available for Direct Purchase