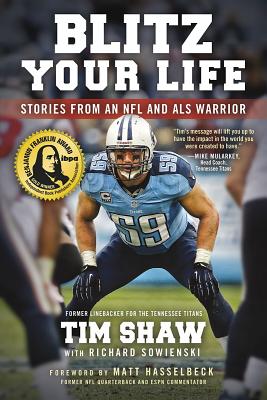 Blitz Your Life
Stories from an NFL and ALS Warrior
Paperback

* Individual store prices may vary.
Description
If you've ever dreamed of something more in life, this book is for you. Winner in two categories at the 2018 Benjamin Franklin Awards, Blitz Your Life is a collection of reflections from a former NFL linebacker on a life lived fearlessly and challenges from a man with a sense of urgency for impact. These powerful stories range from Tim's time on the football field to the radically different life and goals that resulted from his diagnosis with ALS in 2014. Tim also shares stories of ordinary people who have faced everyday challenges and accomplished extraordinary things. Whether they sweep floors or rebuild neighborhoods or make music, all are living lives that make a difference. At times funny and others serious, Tim encourages readers to write their own goals and stories while pursuing their dreams. Through his whiteboard challenges, he provides practical help that takes readers on a road to success. From his NFL days to his support of ALS awareness, this fighter's message is a courageous call to find and enjoy a life with purpose.
Dexterity, 9780998325309, 224pp.
Publication Date: January 3, 2017
About the Author
Former linebacker Tim Shaw's seven years in the NFL included seasons with the Carolina Panthers, Jacksonville Jaguars, the Chicago Bears, and the Tennessee Titans. A graduate of Penn State, he also holds an MBA from George Washington University. Now an entrepreneur, Tim is a frequent speaker and supporter of ALS awareness. Blitz Your Life is his first book. Richard Sowienski is associate professor at Belmont University and directs the first undergraduate Publishing Program in the U.S. He's held a variety of writing and editorial jobs, working for Better Homes & Gardens, Raising Teens, Country America, Successful Farming, and The Missouri Review. He and his wife Rola call Nashville home.