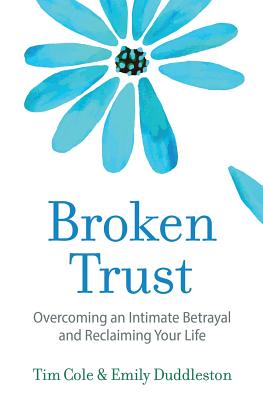 Broken Trust
Overcoming an Intimate Betrayal
Paperback

* Individual store prices may vary.
Description
A partner's betrayal doesn't have to define your relationship.
The key to working through an intimate betrayal is learning how to communicate with your partner in a way that promotes truthfulness and understanding. Although such conversations are difficult to manage, our book provides you with the knowledge and skills needed to honestly discuss the issue with your partner and find a resolution to the problem at hand.
Broken Trust provides a research-based approach to help you:
- Cope with your emotions
- Break out of an endless series of confrontations and denials
- Get your partner to tell you the truth and be less defensive
- Take the necessary steps to rebuild trust
- Create a more loving and compassionate relationship
We're confident our approach will help you better understand the betrayal you're going through and give you the tools you need to strengthen and repair your relationship.
As a reader of our book you can join a private, confidential online community where you can share your experiences, ask us questions, and get advice from us and others on how best to move forward. This online community includes assessment tools, online journals, forums, and a variety of additional resources to help you cope with and recover from an intimate betrayal (www.brokentrust.com).
Praise For Broken Trust: Overcoming an Intimate Betrayal…
"Love is not enough: we need trust, too. Yet all too often, partners violate that trust. Why does this happen? Can your relationship's foundation be repaired, or is it wiser to leave? And if you stay, how can you restore your damaged trust? Regardless of the type of betrayal, authors Tim Cole and Emily Duddleston use research, examples, and activities to help couples become closer, stronger, and wiser than before. Broken Trust is indispensable—the go-to resource I'm recommending for my own clients who are working through betrayals and their inevitable but conquerable aftermath."

Duana C. Welch, PhD Author of Love Factually

"When trust has been broken in a relationship, the future can feel hopeless. Dr. Cole and Ms. Duddleston provide a well-thought out, research-based approach on how to tackle this issue as a couple. I highly recommend this book for couples who want to make an earnest effort to see if trust can be rebuilt."

Caroline Madden, PhD
Author of After a Good Man Cheats

Immensus Press, 9780998358505, 228pp.
Publication Date: April 15, 2017
About the Author
Tim Cole earned his doctorate in interpersonal communication at the University of California at Santa Barbara. Dr. Cole was one of the first scholars to discover how differences in people's need for attachment can lead to an intimate betrayal. He's currently an award-winning Associate Professor at DePaul University where he does research and teaches courses on attachment, deception, and close relationships.