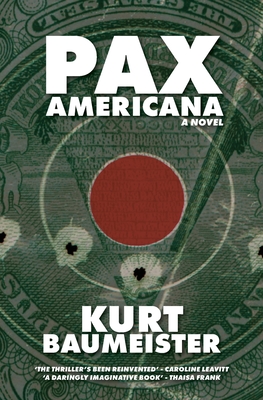 Pax Americana
Paperback

* Individual store prices may vary.
Description
2034: Evangelical secret agents, fast food moguls, the voice of God in computer software, violence in the Bermuda Triangle George W. Bush's foreign policy vindicated by a quick victory in Iraq, lucrative invasions of Egypt and Syria followed, bringing unparalleled prosperity to America and setting off thirty years of right-wing rule. But when a war in Iran goes bad--and the resulting cover-up goes worse--the democrats reclaim the presidency. This is the time of Pax Americana and its zealous anti-hero, government agent Tuck Squires.
Reading the ironic silences between the lines of the thriller, and roaring like a jet engine, Pax Americana is a sacrilegious, conspiratorial monster; like a literary dogfight between Martin Amis and Robert Anton Wilson, loaded with prophecy, Baumeister's debut is an exorcism and an antidote for our era.
'Like an episode of Archer written by Kurt Vonnegut, Baumeister takes us into a hilarious and high-velocity world of espionage and global politics in this send-up of god, country, and the possibility of doing good in a world gone bad. It's fast-paced fun, watch out for paper cuts as the pages fly by.' -Shya Scanlon
'If there is to be an American peace, it's certainly not going to come on the pages of this lit match of a novel. Kurt Baumeister has fashioned exactly the old school pre- and post-Bond techno x-travaganza everyone bored with explorations of the louvre has been waiting for. Pax Americana is both dark satire and deeply satisfying, an adrenaline rush that runs through suspect politics, spirituality software, and the sacredly profane. It's a blast. Buy it now.' -Sean Beaudoin
Stalking Horse Press, 9780998433943, 380pp.
Publication Date: March 15, 2017