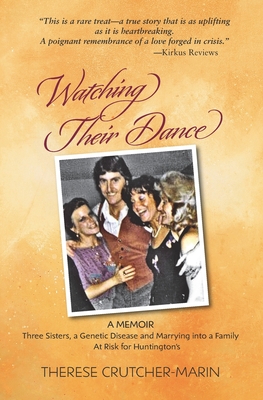 Watching Their Dance
Three Sisters, a Genetic Disease and Marrying into a Family At Risk for Huntington's
Paperback

* Individual store prices may vary.
Description
Therese Crutcher-Marin's world was turned upside down when she learned that her fianc , along with his three sisters, were all at risk for Huntington's.
Huntington's disease is a devastating inherited condition that produces a combination of neurological, motor, cognitive and psychiatric symptoms. It's been compared to having Parkinson's, Alzheimer's, and ALS all at the same time. There is no cure.
In her new memoir, Watching Their Dance, Crutcher-Marin shares her deeply personal story of marrying into a family at risk for Huntington's. "Some lives seem to move smoothly along a natural continuum, with one event or decision seeming to slide into the next," she writes. "Such people seem to have faced no dramatic forks in the road, had few life-altering choices to make. Other lives, at least in hindsight, travel in a particular direction at one particular life-changing moment. That's what happened to me, when, at age twenty-two, I suddenly had to confront the most complicated decision of my life."
Crutcher-Marin tells of her soul searching and her fears as she contemplated a life of unpredictability: her fianc and each of his siblings had a 50-50 chance of developing a fatal wasting disease that had no test, no treatment, and no cure. She shares the great happiness and joy she experienced when she took a leap of faith and married the love of her life, along with the tough choices and pain that became part of her life as one by one her sisters-in-law slowly succumbed to the disease.
Watching Their Dance is a truly inspirational story of hope as Crutcher-Marin shares the path she has chosen may be difficult but it has opened her heart to love more deeply and made her life that much richer. What Therese learned from the Marin siblings could never be found in a book, a classroom, a religious setting, or a therapist's office. Forty years ago, Crutcher-Marin took the biggest gamble of her life by keeping these people in hers, and it made her the person she is today.
Therese Crutcher-Marin is a member of the board of directors of the Northern California Chapter of HDSA. She lives with her husband John in California.
Norcal Publishing Company, 9780998442204, 312pp.
Publication Date: March 22, 2017