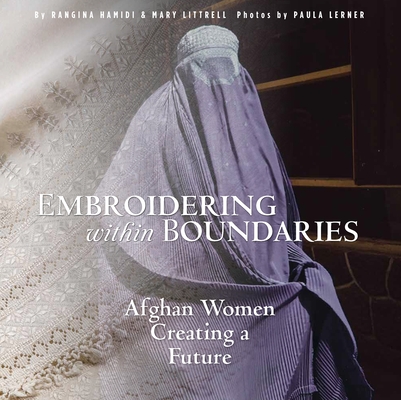 Embroidering within Boundaries
Afghan Women Creating a Future
Paperback

* Individual store prices may vary.
Description
Winner, Silver Medal in the Multicultural Category, 2018 IBPA Benjamin Franklin Awards

Fifteen years ago, Rangina Hamidi decided to dedicate her life to helping rebuild her native Kandahar, Afghanistan. The Taliban had been driven out by American forces following 9/11, but Kandahar was a shambles. Tens of thousands of women, widowed by years of conflict, struggled to support themselves and their families. Rangina started an entrepreneurial enterprise, using the exquisite traditional embroidery of Kandahar, to help women work within the cultural boundaries of Pashtunwali to earn their living and to find a degree of self-determination. Thus Kandahar Treasure was born. This book traces the converging paths of traditional khamak embroidery and the 300 brave women who have found in it a way to build their lives. The late, award-winning photojournalist Paula Lerner was dedicated to telling the stories of women in Afghanistan. Her remarkable images throughout the book show Afghan women's profound struggle, strength, and beauty.
Praise For Embroidering within Boundaries: Afghan Women Creating a Future…
"In this beautiful book, Rangina takes us on a journey into her own life and the lives of the talented and courageous Afghan women she serves through Kandahar Treasure. This is an extraordinary story of resilient and remarkable people—a story that informs and inspires." —Melanne Verveer, former U.S. Ambassador, Global Women's Issues; Director, Georgetown Institute for Women, Peace, and Security

"These rich and complex accounts of actual women underscore the intricacy of life in Afghanistan. This honest, close up view of the daily workings of a women-led Afghan business shows the intersection of the intimate with the geopolitical." —Dr. Rachel Lehr, Fulbright Scholar and Research Associate, University of Colorado; author, The Carpetbaggers of Kabul and Other American-Afghan Entanglements

"I'm thankful that this story is being told. We should all be inspired by what Rangina has accomplished. The world is better because of her resolve." —Kellie Kreiser, Executive Director, Thunderbird School of Global Management

"The courage and creativity of Rangina Hamidi and the women of Kandahar Treasure shine from the pages of this luminous book. This exploration of the hidden worlds of Afghan women tells us as much about the country as all the news reports about bomb blasts and kidnappings put together." —Matthieu Aikins, Journalist and Nation Institute Fellow

"This magnificent book allows us to peer behind the veil to behold the world of beauty, pride, and meaning of ancient Afghan embroidery. A triumph!" —Peggy Clark, Director, Alliance for Artisan Enterprise

"The authors have collaborated in deftly crafting a fascinating, impressively informative, compelling study that is unreservedly recommended for both community and academic library Women's Studies collection in general, and Contemporary Afghanistan Cultural collections in particular." —Margaret Lane, Midwest Book Review

"Embroidering within Boundaries is a gorgeous visual, but also touching testimony of how traditional textile craft and the women behind the needle and thread can forge a new path for themselves in a region so wrought with conflict and hardship." —Rebeca Schiller, Editor, Hand/Eye Magazine

"I wholeheartedly recommend this book to lovers of fine embroidery and textiles, those interested in learning about other cultures and ways of life, and those inspired by stories of endurance, courage, triumph, and hard work." —Ansie Van der Walt, Editor, thefabricthread.com

"Fine embroidery is not the first thing that comes to most people's mind when they hear the name Afghanistan. But for a group of women in the southern Afghan city of Kandahar, fine khamak embroidery has become their saving grace, their livelihood and their source of power, confidence and independence." —Ansie Van der Walt, mrxstitch.com

"Lovers of global textiles and culture will find this book a perfect addition to their collection. It would serve as excellent recommended or required reading for a course in the Social and Cultural Study of Dress. It provides a way to teach students about women's lives in Afghanistan while showcasing a traditional time-honored textile art." —Jana Hawley, Ph.D, Director, John and Doris Norton School of Family and Consumer Sciences, University of Arizona
Thrums Books, 9780998452302, 172pp.
Publication Date: October 1, 2017
About the Author
Rangina Hamidi is the founder and president of Kandahar Treasure. She has served as the manager of the women's Income Generation Project for Afghans for Civil Society and lives in Kandahar. Mary Littrell is a professor, Department Head Emerita of Design and Merchandising, a research associate at the Museum of International Folk Art, and serves as chair of the Artist Selection Committee for the International Folk Art Market. She lives in Santa Fe, New Mexico. Paula Lerner was an award-winning photojournalist and multimedia producer. She was the principal photographer for the Emmy Award-winning project, Behind the Veil.
or
Not Currently Available for Direct Purchase