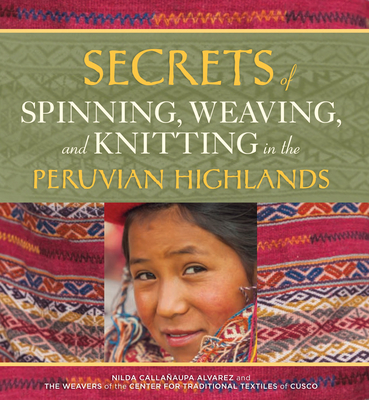 Secrets of Spinning, Weaving, and Knitting in the Peruvian Highlands (Paperback)
Thrums, LLC, 9780998452357, 144pp.
Publication Date: September 1, 2017
* Individual store prices may vary.
Description
Winner, Silver Medal in the Craft/Hobby Category, 2018 IBPA Benjamin Franklin Awards

Nilda Calla aupa Alvarez has gathered artisans of all ages to share their knowledge, lore, and deep skills, highlighting many of the techniques used by craftspeople in the Andes. They reveal clever highland secrets for everything from skeining yarn and knitting in reverse to weaving tubular borders and embellishing fabric with complex stitches. For many of these techniques, they provide concise step-by-step instructions accessible for North American crafters. Thoughtful, detailed descriptions of Andean cultural traditions frame each section, providing context and rare insight into what textile work means as a living heritage of the Quechua people.
About the Author
Nilda Callañaupa Alvarez is the Director of the Center for Traditional Textiles of Cusco where she works with ten weaving communities to preserve and promote Cusqueñan textile traditions and to support the weavers and their work. She is the author of Textile Traditions of Chinchero and Weaving in the Peruvian Highlands.
Praise For Secrets of Spinning, Weaving, and Knitting in the Peruvian Highlands…
"The Cusco weaving tradition is the proud modern descendant of the expertise and creativity found in cloth of the Inca Empire, kept alive in our time by the energetic efforts of the Center for Traditional Textiles of Cusco. This valuable book provides insightful introductory text and beautifully clear instructions and illustrations for how to reproduce the more basic techniques.  Even those who never try to use the techniques will gain a greater appreciation of this rich tradition, while for textile practitioners the book is a gold mine, revealing the little tricks needed to use these techniques successfully."
Ann Pollard Rowe, Research Associate of Indigenous American Textiles at The Textile Museum, Washington, D.C., and author of numerous touchstone publications about Andean textiles

"Nilda Callañaupa Alvarez and her young associates at the Center for Traditional Textiles of Cusco share their vast knowledge of making textiles in highland Peru and also provide a unique window into the meanings associated with their processes. The book is chock-full of photographic details and succinct captions that take the reader through the steps of making yarn and cloth the Andean way. "
Mary Frame, author and scholar of ancient and ethnographic Andean textiles

"This publication, through written words and integrated with beautiful photos, openly makes accessible Quechua indigenous weaving techniques and ancient practices passed through centuries but never before documented in such a written and visual publication. It's a beautiful gift for future generations of Quechua youth and young people throughout the world who are challenged to retain the ways of their ancestors while living in and contributing to the modern world."
Dr. Andrea M. Heckman, author of Woven Stories: Andean Textiles and Rituals