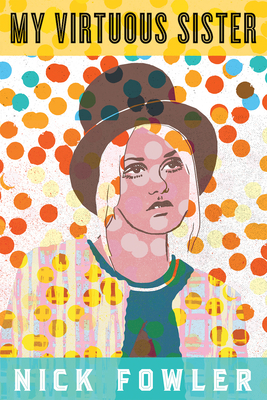 My Virtuous Sister (Paperback)
Upper Hand Press LLC, 9780998490687, 100pp.
Publication Date: August 1, 2019
* Individual store prices may vary.
Description
My Virtuous Sister is a story of abuse, revenge and redemption that debuts missing 20-year-old Welsh emigr e Peddie Smout, famous as a rock star at the end of the last millennium. Among the post-9/11 rubble, her younger brother and soulmate Nate arrives in holiday-season Manhattan in search of his sister. By piecing together the ragged index cards of the makeshift diary he recovers from the Grand Central locker in which Peddie had secreted it, Nate unfolds the story of previous New Year's Eve 1999 and the brief fame of songstress Cordelia Peddie Smout, who, after having understood seduction to be a price of business, loses her record deal, gains a heroin habit, and finds salvation in the form of Alcoholics Anonymous. Or, rather, its star member, Teddy D., at whose "sober" New Year's Eve soiree the reader encounters not a few surprises.
Though Nate narrates Peddie's trials from a distance through the device of her index card diary, the redemptive love of their sibling bond powers his narration, illuminating all that is resilient and luminous in Peddie's character despite her fall from stardom to very hard times."Fowler has established himself as the voice of the new generation."
-
The Stranger
"A strong eye for the awkward interactions between the sexes."
-
Entertainment Weekly
"
Who is this guy? This is who; if you were to make a list of 50 promising first novelists now working in the U.S., Fowler should be on it."
-Miami Herald
"So what has changed since Hemingway, Fitzgerald and Cheever recorded the pressures and repression weighing down a sensitive middle-class man trying to make it in a capitalist world? As Fowler tells it, the pressures haven't changed much...Fowler is an expansive, lyrical, inventive writer...Fowler's invocation of his literary heroes is a joy..."
-
The New York Times Book Review
About the Author
Nick Fowler is a writer, editor and musician born in Furth, Germany whose debut novel, A Thing (or Two) about Curtis and Camilla, published by Random House, received a full-page, lead-review in the New York Times that compared him to J.D. Salinger, F. Scott Fitzgerald and Ernest Hemingway. It was a U.K. best seller for Hodder and Stoughton. Fowler has performed on The Tonight Show, The Sopranos, and toured in support of Bon Jovi, Paul Rodgers and Steve Stevens. His boutique writing company www.nickfowlerwritingservices.com will be launched simultaneously with My Virtuous Sister in 2019. Fowler has fiction writing at NYU, The New School and mediabistro after graduating from Cornell University. http: //en.wikipedia.org/wiki/Nick_Fowle
or
Not Currently Available for Direct Purchase