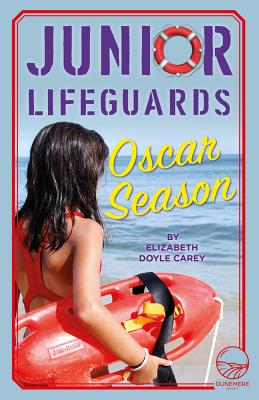 Oscar Season (Junior Lifeguards #2) (Paperback)
Dunemere Books, 9780998499710, 234pp.
Publication Date: May 23, 2017
* Individual store prices may vary.
Description
Junior Lifeguards are #brave and #strong. Join the squad!
Catch up with the brave, diverse girls of the Junior Lifeguards as they continue their summery adventures on Cape Cod, where ice cream, miniature golf, and sand-between-your-toes combine with beachfront bravery and life skills for wholesome summer days and nights!
Junior Lifeguards basic training isn't for wimps. In OSCAR SEASON, thirteen-year-old aspiring actress Selena Diaz learns this the hard way during her first week on the squad. Along with best pals Jenna, Piper, and Ziggy, Selena is just getting her feet wet as a lifeguard trainee and the going is tough.
What's worse, she's also dealing with a new job, swim lessons, a show-tunes singing math tutor, and a haughty neighbor who's also kind of her boss. But Selena uses her showbiz enthusiasm to tackle every problem, and squad cutie Hayden Jones and stray kitten Oscar brighten each day. Meanwhile, they soon discover that a real Hollywood star is shining brightly in their midst—right here on the Cape!
About the Author
Elizabeth Doyle Carey is a former book editor and bookseller. She is the author of 33 books for young readers including 15 titles in the Cupcake Diaries series and 4 titles in The Callahan Cousins series. She lives in New York City. 

Praise For Oscar Season (Junior Lifeguards #2)…
#27 of Book Riot's "100 Must Read Middle Grade Books for the Summer"

"Delivers believable surprises…authentic…An enjoyable start to [an] engaging series for tweens."  —Kirkus Reviews on The Test

"Brings to mind the cheery "it-all-ends-well" tone of books from another era…brimming with wholesome tween drama."  —School Library Journal on The Test
"This is a great summer read…nicely diverse…Definitely a fun series, both for fans of beach life and for those of us in landlocked areas who only get as far as the beach on a lake!"  —Mrs. Yingling Reads on The Test

"Fun new summer-read series…relatable and engaging."  —NetGalley children's librarian review on The Test