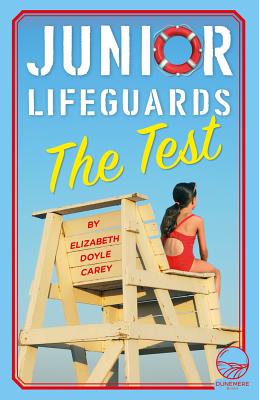 The Test (Junior Lifeguards #1) (Paperback)
Dunemere Books, 9780998499741, 254pp.
Publication Date: April 24, 2017
* Individual store prices may vary.
Description
The new JUNIOR LIFEGUARDS series is wholesome summer fun for young YA readers!
Join the brave and strong girls of the Junior Lifeguards on their summery adventures in Cape Cod, where ice cream, mini-golf, and sand-between-your-toes combine with crushes and life skills for fun beachfront escapades!
Dive right into tryouts with Jenna, Piper, Selena, and Ziggy-- four diverse girls entering their first season as lifeguards-in-training on Cape Cod's iconic Atlantic coast. Romance and rivalries abound in this beachside town, where swanky seasonal homeowners and hard-working locals clash and unite in age-old patterns. In this first book of the JUNIOR LIFEGUARDS series, the girls are vying for spots on the summer squad, with ocean legend Bud Slater hand-picking a team of winners. Will they or won't they make the cut?
About the Author
Elizabeth Doyle Carey is a former book editor and bookseller. She is the author of 33 books for young readers including 15 titles in the Cupcake Diaries series and 4 titles in The Callahan Cousins series. She lives in New York City.

Praise For The Test (Junior Lifeguards #1)…
#27 of Book Riot's "100 Must Read Middle Grade Books for the Summer"

"Delivers believable surprises…authentic…An enjoyable start to [an] engaging series for tweens."  —Kirkus Reviews
"Brings to mind the cheery "it-all-ends-well" tone of books from another era…brimming with wholesome tween drama."  —School Library Journal

"This is a great summer read…nicely diverse…Definitely a fun series, both for fans of beach life and for those of us in landlocked areas who only get as far as the beach on a lake!"  —Mrs. Yingling Reads
"Fun new summer-read series…relatable and engaging."  —NetGalley children's librarian review
"This is a great summer read. Jenna is an interesting character, and one who will speak to many middle grade readers…Jenna's friend group is nicely diverse, and I loved how they all had their own interests." —Ms. Yingling, Ms. Yingling Reads
"Suggestions for your summer reading: Junior Lifeguards: The Test" —Olivia Burns, Cape Cod Times
Short Listed for Gertrude Chandler Warner Award at Chanticleer Books

The Gertrude Warner Book Awards recognize emerging new talent and outstanding works in the genre of Middle-Grade Readers. The Gertrude Warner Book Awards is a genre division of Chanticleer International Book Awards (#CIBAs) and Novel Competitions.
Purple Dragonfly Book Award

Honorable Mention in the Book Series category for JUNIOR LIFEGUARDS; Second Place in the SPORTS category for Junior Lifeguards THE TEST.