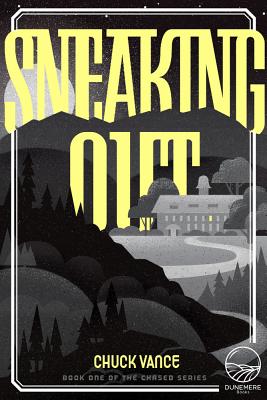 Sneaking Out (The Chased Series)
Paperback

* Individual store prices may vary.
Description
"A taut, high-energy whodunit."  —Booklist
 2018 Literary Classics Silver Award Winner for YA Mystery
 2018 Dane Rosetti YA Award Semi-Finalist
 
Could you sleep next to a murderer?

Luke Chase—yes, that Luke Chase, a modern hero ripped from the headlines—didn't mean to get caught up solving the mystery of Mrs. Heckler's murder. He just wanted to hook up with the hot new British girl at their boarding school, and if that meant sneaking out to the woods after hours for some romance, then so be it.
 
But little did he know someone would end up dead right next to their rendezvous spot, and his best friend and roommate Oscar Weymouth would go down for it. With suspects aplenty and a past that's anything but innocent, Luke Chase reluctantly calls on his famous survival skills to solve the mystery and find the true killer.
 
For fans ofA Study in Charlotteand boarding school lit, Sneaking Out (book one in the "Chased" series) immerses readers in the privileged prep school world, with a mystery that exposes the dark side of life on a residential high school campus.
 
Praise For Sneaking Out (The Chased Series)…
"A well-developed mystery in which all characters—teachers, students, and perhaps even the Southborough Strangler—are suspects, this novel moves quickly and keeps readers engaged with twists and turns." —Erica Thorsen Payne, School Library Journal

"A murder mystery with a likable hero... The author deftly sets the stage for future investigative adventures." —Kirkus Reviews

"Perfect for readers who love a good academic mystery."  —Bolo Books

"Sneaking Out was an amazing book that was jam-packed with action and suspense. The book's fast pace kept me on the edge of my seat until the very last page. Every character was developed well, and they each had their own individual personalities...I will anxiously be awaiting the next book in the series." —Lit Pick Kid Reviewers

"The reveal was satisfying and left me yearning to read the novel over again to put all the pieces together. This is a fantastic murder mystery...." —Jeremy H., Teen Board Member, Book Reviewer, Teen Reads

"A taut, high-energy whodunit. Luke is less a Sherlock Holmes investigator than an action hero (à la Tom Clancy's Jack Ryan) . . . Readers who like boarding-school settings will find a lot to enjoy about this well-paced mystery" —Booklist
Dunemere Books, 9780998499772, 404pp.
Publication Date: March 6, 2018
About the Author
Chuck Vance grew up on the east coast and attended boarding school in New England. After college he lived in Europe for six years and has subsequently lived on both coasts of the U.S. He spends an enormous amount of time studying crime. Chuck Vance is a pseudonym.

or
Not Currently Available for Direct Purchase