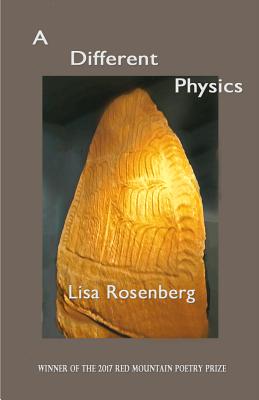 A Different Physics (Paperback)
Red Mountain Press, 9780998514062, 80pp.
Publication Date: May 15, 2018
* Individual store prices may vary.
Description
Poetry. California Studies. From thistles and fossils, to the inner workings of spacecraft, the poems in A DIFFERENT PHYSICS move with lyric power through natural and figurative landscapes, to worlds of cultural and intellectual models. A slide rule carries us from grief back to innocence. A silicon wafer for microchips reflects sexual politics and art history. In the central sequence, "Flight," we travel a cloaked realm of the military-industrial complex, to its unsettled territory of personal and national mythologies. Places, objects, and ideas launch explorations into our modes of industry and inquiry, and the very things--and lives--we have built. With musicality and formal breadth, these poems of curiosity, cynicism, reverence, and transformation invite us to consider the forces that shape our thoughts and our lives, as well as paths toward new possibilities for both. "In A DIFFERENT PHYSICS Lisa Rosenberg achieves attention as an action of mind and a spiritual attainment. These poems give the reader alert, informed attention to the natural world of plants and creatures--and also to the demanding world of particles, 'clean rooms' and precision engineering. Moreover, A DIFFERENT PHYSICS unifies those realms, with an informed vision that is social as well as scientific, personal as well as historical."--Robert Pinsky "These compelling poems--sometimes dark, sometimes bright, but always elegantly crafted--will capture whoever comes across them. The lyric reach here engages everything from the abstract power of satellites and Greek letters all the way to powerfully observed details of landscape and feeling. These are ambitious poems: ready to unfold their world, ready to inhabit the reader's memory."--Eavan Boland "Trained as a scientist and poet, Lisa Rosenberg brings both disciplines together in ways that are quietly terrifying. She writes from the lab and the mysteries of flight. In landscape, as beautifully rendered as in any modern writer, she sees the potential for destruction familiar to us in the daily news: 'great plumed pockets of fog like white flame / rise from ravines that channel fire or rain.' A DIFFERENT PHYSICS is a great book, perhaps an antidote for the fire and fury of our time."--Kenneth Fields "Lisa Rosenberg's poems have their own physics, a science of stillness and movement, stored energies, and the gravity of experiences registered long before they are spoken aloud. In these poems' rich and economical language, the artistic, the scientific, and the human imbricate: Matisse's Blue Nude II is etched onto a silicon wafer. A child flings her limbs wide like Leonardo's Vitruvian Man. And a woman, like Icarus, follows her father into flight and beyond into a world of satellites and secrets. A DIFFERENT PHYSICS subtly but memorably alters the way we read the world around us."--Nan Cohen.
or
Not Currently Available for Direct Purchase