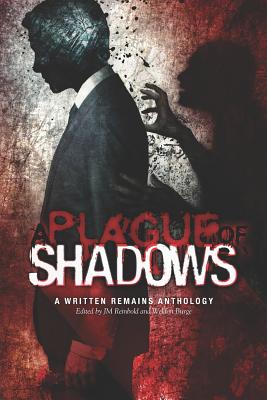 A Plague of Shadows (Paperback)
A Written Remains Anthology
Smart Rhino Publications, 9780998519623, 360pp.
Publication Date: September 6, 2018
* Individual store prices may vary.
Description

It's been said that there are no haunted places, only haunted people. That's who you'll find here, the haunted ones. A maintenance technician in remote Alaska, an English thief, a young couple on a road trip across America, an astronaut on a one way ride to Jupiter, an Irish gravedigger, and dozens more. All victims of an otherworldly infection, all tormented by a plague of shadows. In this anthology, you will find tales of horror and suspense fiction, science fiction, fantasy, and mystery. An eclectic collection of ghost stories and hauntings. If you're looking for diversity on the theme, you can go wrong here.Do you believe in ghosts? You will ... "Without a doubt, this collection of ghost stories is the best anthology I've read in years." -- Tony Tremblay, author of The Moore House and The Seeds of Nightmare "Gloriously dark and gripping, the stories and poems in A Plague of Shadows will burrow under your skin and make themselves at home. Highly recommended "-- Cristina Sng, Bram Stoker Award-winning author of A Collection of Nightmares "Would send shivers up M.R. James' back and have Poe reaching for extra lamps. I recommend it highly "-- JG Faherty, author of The Cure, The Burning Time, and Carnival of Fear "The kInd of book writers and readers need. Offers fresh perspectives on complex subjects." --Paul Dale Anderson, author of The Instruments of Death series "A Plague of Shadows is this year's 'don't-miss' anthology." --Shaun Meeks, author of At the Gates of Madness and The Gate at Lake Drive This anthology includes stories and poetry by the members of the Written Remains Writers Guild, as well invited, renowned guest authors. Starving Time -- Jane Miller Bark of the Dog-Faced Girl -- Maria Masington The Stories That We Tell -- Billie Sue Mosiman For Number 11 -- Carson Buckingham Bottom of the Hour -- Phil Giunta Powder Burns -- J. Gregory Smith Neighbors From Hell -- Graham Masterton Finding Resolution -- Patrick Derrickson The Fierce Stabbing and Subsequent Post-Death Vengeance of Scooter Brown -- Jeff Strand On the House -- Jacob Jones-Goldstein No Good Deed -- Gail Husch Haunting the Past -- Jasper Bark To Heart's Content -- Shannon Connor Winward Twelve Steps -- Jeff Markowitz Song of the Shark God -- JM Reinbold Dollhouse -- Jennifer Loring The Black Dog of Cabra -- J. Patrick Conlon The Angel's Grave -- Chantal Noordeloos Vindictive -- Weldon Burge A Hanger in the World of Dance -- Stephanie M. Wytovich Edited by JM Reinbold & Weldon Burge The illustration for the cover was created by Tomoki Hayasaka. Cover design by Ju Kim.