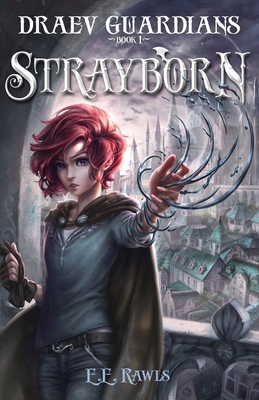 Strayborn
Draev Guardians
Paperback

* Individual store prices may vary.
Other Editions of This Title:
Hardcover (10/14/2019)
Description
Elemental Manipulation. Only those with the power can train to become a Draev Guardian.
Cyrus Sole hates life. She's only half-human, with weak wrists, and not a day goes by when someone doesn't say something mean about it-especially her step-mom. But when the forbidden power to manipulate metal awakens inside her, she finds herself on the run as the Argos Corps is sent to kill her...
Aken is a Scourgeblood, the last in a line of monsters. But all he really wants is to gain wings and be free. Until a new power suddenly awakens, changing the course of his life...
The Draev Guardian Academy is their only sanctuary. But training to become a Draev won't be easy. Cyrus has to hide her human side, as she gets placed in Floor Harlow with the outcast students, and nightmares of her deceased mother keep returning.
With creepy Corpsed on the prowl, and whispers of Cyrus possibly being a reborn Hero, both she and Aken find themselves caught up in a web of secrets, racial tension, and an old legend with enemies that could spell their untimely demise...
Dive into the fantasy coming of age series: Draev Guardians, where elemental magic reigns and monsters lurk, and where you can get a delicious latte. Similar to books like Percy Jackson, Harry Potter, and Narnia.
A series for upper middle graders, teens, and adults.
Begin the adventure:
Dive into a story of adventure, heart, and mysteries to unravel.
Explore a vivid world of fantastical kingdoms, elemental powers, cultures, and humanoid races from folklore.
Meet relatable and misfit characters you will fall in love with.
Experience intrigues, battles and epic fight scenes.
Enjoy humor, suspense, dangers, trials, and teamwork within an epic fantasy world.
About this series:
Genre: Epic fantasy, action & adventure, coming of age, christian, fantasy & magic.
Audience: Middle-grade, teen, young adult, adult.
Setting: Our world's twin planet, full of elements of fantasy.
Reader age: 11+
Explicit language: None.
Completeness: An ongoing series.
Similar or influenced by: Lord of the Rings, Percy Jackson, Harry Potter, Narnia, Mistborn...
Books in the Draev Guardians series:
#1 Strayborn
#1.5 Dragons and Ravens
#2 Strayblood
A series that will touch your heart, make you laugh and cry, and adventure that will keep you gripped
Storyteller Wings Press, 9780998556901, 406pp.
Publication Date: October 14, 2019