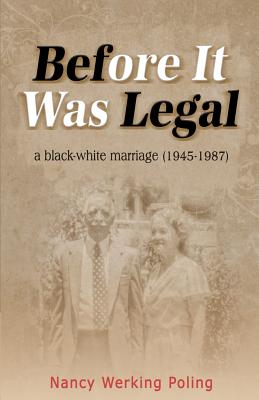 Before It Was Legal
a black-white marriage (1945-1987)
Paperback

* Individual store prices may vary.
Description
"Would you marry a Negro?" the group of young white social workers asked each other over dinner. "If he's the kind of man I'm attracted to," Anna Harley answered. She was, in fact, seeing Daniel Winters, a black man, regularly.
Their forty-two-year marriage would span key historical periods of the 20th century and eventually take the couple to Mexico City. There, for the first time, Daniel could work in the profession he'd been educated for. Freed from U.S. racism, he felt "as Mexican as chile verde." Mean-while, Anna, a reserved blond woman who struggled with speaking Spanish, experienced no similar sense of liberation.
Before It Was Legal is not a happily-ever-after story, but an honest portrayal of the love and hurt that any two people, not just a bi-racial couple, may encounter in an intimate relationship. It is the story of an independent white woman, a talented black man, and the times in which these two remarkable people lived.
Praise For Before It Was Legal: a black-white marriage (1945-1987)…
being reviewed
Nancy Werking Poling, 9780998565101, 196pp.
Publication Date: March 1, 2017
About the Author
Nancy Werking Poling's motivation to write emerges from a concern for women's struggles and triumphs. Their experiences have inspired her published works: Had Eve Come First and Jonah Been a Woman, a collection of short stories in which she imagines male biblical heroes as women; Out of the Pumpkin Shell, a novel about women's friendship and family secrets; and a book she edited, Victim to Survivor: women recovering from clergy sexual abuse. Her short stories have appeared in anthologies and literary journals. She and her husband live in the mountains of western North Carolina.