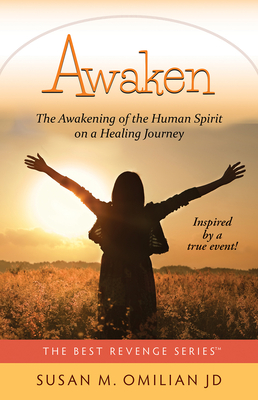 Awaken
The Awakening of the Human Spirit on a Healing Journey (The Best Revenge Series)
Paperback

* Individual store prices may vary.
Description
This compelling story, based on true events, is written from the victim's point of view and depicts how manipulation, intimidation, and cruelty of violence against women can be devastating and lasting. 19-year-old Lacey Lockwood, a beautiful, smart college student, is murdered by her possessive, controlling ex-boyfriend. After her death, she becomes trapped inside the body of Lisette La Tour, a straight-talking, no-nonsense stripper, who has been wounded by an abusive childhood and who dances under the name of "Attila the Hunny." Lacey and Lisette share the spotlight on stage as well as on an urgent journey to avenge what has happened to them, move beyond the abuse in their lives, and discover that living well is, indeed, the best revenge. This inspirational story shows how anyone can triumph if they have forgiveness, courage, and strength.
Praise For Awaken: The Awakening of the Human Spirit on a Healing Journey (The Best Revenge Series)…
"Treat yourself to this moving story! Awaken is a fascinating extension of the cutting-edge, healing work Susan has done with her My Avenging Angel WorkshopsTM and book, Entering the Thriver Zone. Susan's novel captures the heart and soul of the important personal journey to thriving."  —Kathryn Tull, M.A., LMFT, author, The Next Bold Step

"The life of an abused woman can be seen from many different perspectives. Susan presents a captivating story that leaves you begging to discover what happens next as a variety of events and characters come together creating a sense of home, togetherness and possibility."  —Dorothy D. Martin-Neville, PhD, author, Dreams Are Only the Beginning

"What a journey the characters in Awaken are on! We get to experience what they think and feel as we see the world around them through their eyes. This is a world where, yes, tragedy, grief, and pain can strike, but the characters also reach for positive, hopeful thoughts as they seek answers and forgiveness. I am excited to read the next book!"  —Milena Erwin, MBA, CGBP, Women's Business Center

"Susan's book is a great teaching tool that shows women the importance of having self-respect and finding their true worth. The story illustrates the many types of abuse a woman can experience and its long-term impact on their lives. The book also gives hope and encouragement to victims that they can heal and not only survive, but thrive after abuse! I will be using this story to motivate the women I work with to reach new heights and free themselves from their past."  —Michele Hunt, domestic violence advocate counselor

"This book captured and held my attention to the end. I couldn't wait to find out what happened next. It is a powerful story that clearly illustrated the signs of abuse in a relationship without listing them like in a domestic violence pamphlet. The character development was awesome. I feel like I know everyone in the story and shared all their adventures. I can't wait to find out what's to come in the next books of the series."  —Teri Coughlin, My Avenging Angel WorkshopsTM participant
Butterfly Bliss Productions, 9780998574608, 248pp.
Publication Date: September 11, 2017
About the Author
Susan M. Omilian JD is an attorney and women's rights advocate. She has helped hundreds of women on their journey from victim to survivor to thriver for the past four decades. Her award-winning work allows women to permanently break the cycle of abuse and create new, vibrant futures for themselves and their children. She is the author of Entering the Thriver Zone. She lives in West Hartford, Connecticut.