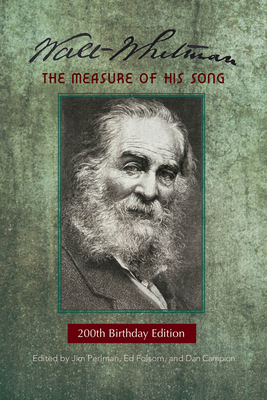 Walt Whitman (Paperback)
The Measure of His Song
Holy Cow Press, 9780998601076, 560pp.
Publication Date: June 4, 2019
* Individual store prices may vary.
Description
"This is a book to browse, to study, to cherish; for, as much as any one book can, it lets the reader know who and what Whitman was and still is―a vital presence."―Choice, Outstanding Academic Book citation
"I know of no more convincing proof of Walt Whitman's impact upon the poetic mind (both at home and abroad) than this collection of tributes by poets―in prose and verse. Its value is aesthetic, critical, and historical, with a fine scholarly and perceptive introduction by Ed Folsom and a chronological bibliography of poems to and about Whitman."--Gay Wilson Allen
First published to wide critical acclaim in 1981, now re-issued as an expanded and updated third edition to celebrate Whitman's 200th birthday, this monumental anthology charts the ongoing American and international response to the legacy of the seminal poet Walt Whitman (1819-1892). Beginning with Ralph Waldo Emerson's famous 1855 letter ("I greet you at the beginning of a great career..."), this edition contains responses from H. D. Thoreau, Ezra Pound, D. H. Lawrence, Pablo Neruda, Allen Ginsberg, June Jordan, Robert Duncan, Meridel LeSueur, Adrienne Rich, Gary Snyder, C. K. Williams, Martin Espada, Mark Doty, Meena Alexander, Julia Alvarez, among many others.
About the Author
Jim Perlman is founding editor and publisher of Holy Cow! Press. Begun in 1977, his press has published more than 125 books. He holds an MA from The University of Iowa where he attended the first Whitman Seminar chaired by Ed Folsom that became the inspiration for Walt Whitman: The Measure of His Song. Please visit www.holycowpress.org. Ed Folsom is the Roy J. Carver Professor of English at the University of Iowa, where he edits the Walt Whitman Quarterly Review, co-directs the online Walt Whitman Archive, and edits the Whitman Series for the University of Iowa Press. He is the author or editor of numerous books and essays on Whitman and other American writers. Dan Campion, author of Peter De Vries and Surrealism (Bucknell University Press, 1995) and Calypso (Syncline Press, 1981), lives in Iowa City, Iowa. He holds degrees from The University of Chicago and the Program for Writers at the University of Illinois at Chicago and received his Ph.D. from the University of Iowa in 1989. He has contributed poetry to many magazines, including Able Muse, Light, Measure, The Midwest Quarterly, The North American Review, Poet Lore, Poetry, Rolling Stone, Shenandoah, and Think.