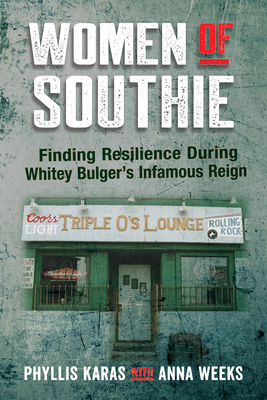 Women of Southie
Finding Resilience During Whitey Bulger's Infamous Reign
Paperback

* Individual store prices may vary.
Description
Women of Southie tells the story of six women, who grew up in and, in most cases, still live in their beloved town of South Boston, a place sadly and most notably recognized as the home of James "Whitey" Bulger, the organized crime boss captured in 2011 after 16 years on the run, and sentenced in 2013 to life in prison for 11 murders. But while Bulger might have been ruling the town with an iron fist, as depicted by Johnny Depp, in "Black Mass," what the town ought to have been recognized for are the far braver women who ruled their own lives and their families with equally strong but far more beneficial hands. Six of these women are depicted in this book, each of whom faced hurdles more frightening than mobsters.  Death of loved ones, suicide, murder, addiction, abuse, post traumatic stress disorder are some of the demons they faced. Yet, none of these women ever backed down from an important fight, each one emerging, on the pages of this book as a shining light of what love and courage and an indomitable spirit can accomplish.
 The stories of these women, whose ages range from 40-67, are filled with honest details, some heartbreaking but all ultimately courageous and inspirational. Talking always honestly, about their children, their men, their losses, and their successes, they are shining examples that, in today's world, it is the words of strong women that offer the antidote to loss and pain.
Changing Lives Press, 9780998623184, 216pp.
Publication Date: September 4, 2018
About the Author
Phyllis Karas is the author of several non-fiction books with some making the NYT Best seller lists.They are: Brutal The Untold Story of My Life Inside Whitey Bulger's Irish Mob by Kevin Weeks and Phyllis Karas, An Actor and a Gentlemen by Louis Gossett, Jr. and Phyllis Karas. She teaches at Boston University School of Journalism. Anna Weeks is a teacher in the Boston City Public Schools. She lives in South Boston with her husband, Kevin Weeks and their three children.