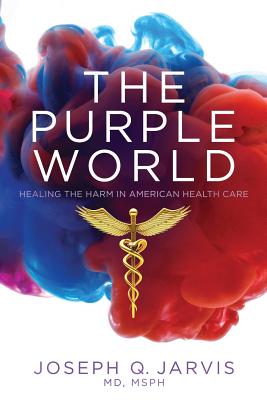 The Purple World
Healing the Harm in American Health Care
Paperback

* Individual store prices may vary.
Description
You get what you pay for, right?
Not when it comes to health care in America. We pay twice as much as any other developed nation for health care, yet we have the worst health of them all. If the safety record of American hospitals were transposed onto the airline industry, a fully loaded 747 would crash every other week And while we pay the highest taxes for health care in the world, tens of thousands of Americans die each year from treatable illness merely because they can't afford medical care.
How did we reach this shameful state? You'll be shocked to find out not only who's to blame, but more importantly, how easy the solution can be.
In this riveting book, Dr. Joseph Jarvis, MD, examines how our nation's focus has radically shifted from the disease to the dollar--drastically harming Americans in the process. With unforgettable stories drawn from Dr. Jarvis's thirty-plus years in the medical profession, he gets you thinking about health-care reform in a big way (you'll never get over the drunk miner who spent the night dipping a dead, rabid bat into every bar patron's drink ).
And through other captivating examples, from brothels to nursing homes, he shows how poorly the average American understands how to make safe health-care choices in the so-called medical marketplace and how poorly politicians serve as arbiters of what good health policy should be.
Most importantly, this book can finally make a difference: instead of simply pointing fingers and wailing about the outrages, Dr. Jarvis offers a workable solution that can be quickly implemented by each state. Before you finish this book, you'll get a compelling look at how politicians can offer real solutions and how the American electorate can finally do the right thing in health-system reform: protect our families, our country, and our future.
Scrivener Books, 9780998625485, 196pp.
Publication Date: September 4, 2018