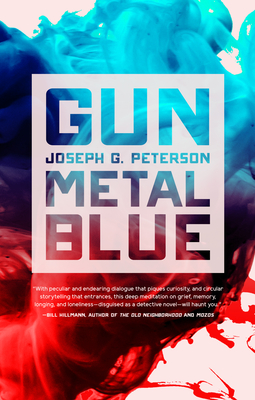 Gunmetal Blue (Paperback)
Tortoise Books, 9780998632568, 224pp.
Publication Date: December 15, 2017
* Individual store prices may vary.
Description
Detective Art Topp has a wife...or rather, had a wife. It's really hard to tell. On one hand, he talks to her every day, and she talks back. On the other, he's still in shock from the day he walked into his Triple A Detective AAAgency office and found her lifeless body riddled with bullets, the catastrophic blowback from what should have been a simple investigation. Now he's promised his daughter he's going to figure out what happened. The only problem is, he's not much of a detective--just a washed-up middle-aged former telecom worker who went to the gun range too often, watched too many episodes of The Rockford Files, and suddenly decided it'd be fun to be a private eye. Or maybe there's another problem--he also knows it might have been his fault. And the cops are starting to wonder, too...
Gunmetal Blue showcases Joseph G. Peterson at his inimitable best. It's delightfully absurd and horrifyingly plausible, a sad and funny look at what happens when our airy fantasies become gritty reality, and when that reality in turn falls apart into madness and nightmares.