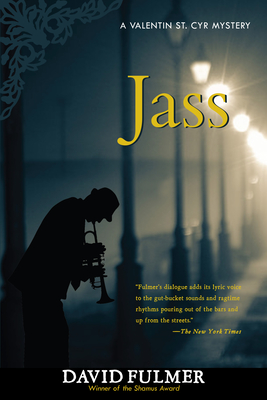 Jass (Valentin St. Cyr Mysteries)
Paperback

* Individual store prices may vary.
Other Editions of This Title:
Hardcover (1/1/2005)
Paperback (1/1/2006)
Description
In the red-light district New Orleans, players of the new music they call "jass" have been turning up dead. To Storyville detective Valentin St. Cyr, it's no surprise. These characters, mostly lowdown "rounders," walk on the wild side, working their rowdy music through the night and spending their days in excess that sets the tone for a hundred years of American musical mayhem to follow. Anyway, the Creole detective has his own problems. With his woman Justine drifting back to the life of a sporting girl, the last thing he needs is some tawdry distraction. But this is Storyville, and nothing is ever quite as it seems. Once Valentin is persuaded to investigate, he discovers that the deaths are not random at all, because every one of the victims once played in the same band. Four are dead, and the only one left alive has gone into hiding. As he digs deeper, Valentin becomes convinced that a certain mysterious woman is the key to the mystery. He's digging too deep, though, and soon Tom Anderson, "The King of Storyville," police lieutenant J. Picot, and even the Chief of Police want him off the case. It's all the proof he needs that there is something larger and darker at the heart of this sordid business. Indeed, this is a tale of dark secrets that lurk in the shadows of the New Orleans nights, under the painted faces of the sporting girls, and especially behind the loud, wild music that echoes up the scarlet streets. "Jass" is a compelling sequel to David Fulmer's award-winning and critically-acclaimed "Chasing the Devil's Tail" - an even deeper and darker journey into the bloody and raucous miasma called Storyville.
Crescent City Books, 9780998643113, 353pp.
Publication Date: June 6, 2017
About the Author
David Fulmer is the author of eleven critically-acclaimed and award-winning novels. Chasing the Devil's Tail was nominated for a Los Angeles Times Book Prize, a Barry Award, and a Falcon Award, was on Borders' "Best of 2003 List," and won the 2002 Shamus Award. Jass was nominated for the "Best of 2005" lists by Library Journal, Deadly Pleasures Magazine, and The St. Louis Post-Dispatch. Rampart Street was rated New York Magazine's "Best Novels You've Never Read" and the audiobook won a Benjamin Franklin Award. The Dying Crapshooter's Blues received the BookPage "Ice Pick of the Month Award" among other plaudits and The Blue Door was nominated for the Shamus Award for Best Novel. Lost River was published in 2009 and The Fall was released by Five Stones Press in 2011. The Night Before, an adult holiday novella, was published as a Bang Bang Lulu Edition in November of 2012, followed by the historical Will You Meet Me in Heaven? in 2014 and The Iron Angel, the fifth novel in the acclaimed Storyville series, in March of 2015. His books have received superlative reviews from The Times Picayune, The New York Times, Publishers Weekly, The San Francisco Chronicle, The Washington Post, The St. Louis Post-Dispatch, BookList, Kirkus Reviews, The Baltimore Sun, Mystery Review, The Detroit News, The Telegraph (UK), The Plain Dealer, Crime Spree Magazine, The Boston Globe, Crimetime UK, The Tennessean, Library Journal, Jazz Review, The Christian Science Monitor, and numerous other publications and book websites. His novels have been released in audiobook and have been translated into Italian, French, Japanese, and Turkish. A native of central Pennsylvania, David Fulmer lives in Atlanta with his wife Sansanee Sermprungsuk
or
Not Currently Available for Direct Purchase