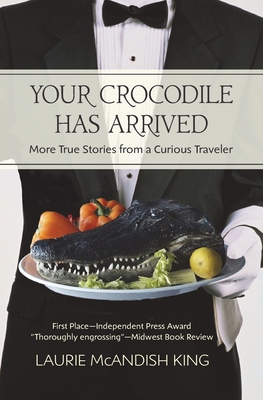 Your Crocodile Has Arrived: More True Stories from a Curious Traveler (Paperback)
More True Stories from a Curious Traveler
Destination Insights, 9780998661513, 294pp.
Publication Date: April 20, 2017
Description
Whether your taste runs to crocodiles or chocolate, ancient relics or flying saucers, you're sure to find entertainment and illumination in this collection of 21 true stories from an award-winning author. Join in as she makes a pilgrimage to see a 2,500-year-old tooth, receives a full-body chocolate massage, checks out 20-foot-long earthworms, participates in a shamanic ayahuasca ritual, and learns the secrets of alien spaceship propulsion from an Ivy-League astrophysicist.
About the Author
Laurie McAndish King's award-winning essays and photography have appeared in Smithsonian magazine, the San Francisco Chronicle, The Best Women's Travel Writing, Lonely Planet's The Kindness of Strangers, and a dozen literary anthologies. Her first travel memoir, Lost, Kidnapped, Eaten Alive! True Stories from a Curious Traveler, was published in 2014 and won four literary awards.
Praise For Your Crocodile Has Arrived: More True Stories from a Curious Traveler…
"King is one of those intrepid female travel writers who ... stumbles into dangerous, disturbing, and terribly odd situations. Always worth the read."
— Tim Cahill, author of Jaguars Ripped My Flesh and Lost in My Own Backyard

"King's curiosity is contagious—whether she's visiting a shrine to Buddha's tooth, undergoing shamanic surgery, or crashing a convention of flying saucer sighters. Her tales glow with wit, warmth and a sense of wonder."
— Jeff Greenwald, author of Shopping for Buddhas and The Size of the World

"Full of whimsy and good humor ... you'll be happy you were there with her."
— Larry Habegger, Executive Editor, Travelers' Tales

"Closely observed gastronomic and natural history vignettes laced with a sense of a disappearing world as civilization encroaches on the wilds ..."
— Kirkus Reviews

"As humor, history, and adventure weave a series of uncommon experiences, armchair travelers receive a thoroughly engrossing read..."
— Midwest Book Review

"I couldn't stop reading … elegantly and perceptively written, intelligent and entertaining"
—Wanda Hennig, Author, Cravings: A Zen-inspired memoir about sensual pleasures, freedom from dark places, and living and eating with abandon

"King writes eloquently about loss—loss of species, loss of ways of life. But what moved me most about Crocodile—besides her powerful prose—is the heroism from everyday people to reverse those losses and heal our planet."
—Kelly Hayes-Raitt, Author, How to Become a Housesitter: Insider Tips from the HouseSit Diva and the forthcoming Living Large In Limbo: How I Found Myself Among the World's Forgotten

"Once I started, there was no turning back. Wonderful evocative writing, irresistible narrative voice."
—Philip O. Chomak, Author, Beside the Point: Close Encounters in the Global Classroom

"Marvelously entertaining and often profoundly moving."
—Linda Watanabe McFerrin, Author of Namako, the Hand of Buddha, and Dead Love


Advertisement