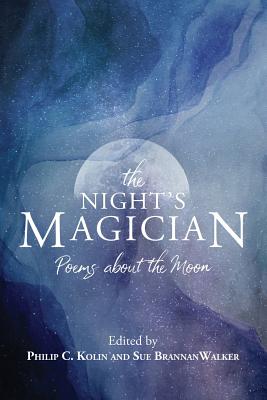 The Night's Magician
Poems about the Moon
Paperback

* Individual store prices may vary.
Description
"In this anthology of poems, 80 gifted contributors from Baltimore to Bucharest reacquaint us with the luminous, numinous moon-and what a delightful meeting it is As I sit listening to Holst's The Planets, feasting my eyes on this printed panorama of moonstruck mindscapes, the irony of this strange Black Moon month when our astral partner hides from our view is impressed upon me as I write, and I am reminded how much I miss her. Sue Walker and Philip Kolin have skillfully brought this collection together, giving readers welcome respite from the burdens of the earthly mundane. Whether profoundly thoughtful or playfully humorous, each poem lodges itself cozily within the reader. No one should deny themselves the pleasures of this lunar mosaic."
-Michael A. Flannery "Let me tell the honest-to-moon truth. This collection makes me feel kin to everybody-Stuart, Maria, William, Lou Ella, Robert, Karen, Joseph, Marley, Peter, Linda-and on: everyone inside and outside its radius. After all, haven't we all shared the moon? Hasn't it accompanied us all, through everything? My own favorite has been the gibbous moon, the curve of its back resembling an ape; a shape I can feel not-too-distantly related to-way out there. This is a collection that brings us all closer together-a magical anthology."
-Sena Jeter Naslund "This anthology is a striking poetic counterpart of the moon's nocturnal magic. Projecting upward their questioning, their awe, fantasy, and visions, word-magicians display here their sleight-of-hand with the light and shadow of substance and form. Although free association is often the poetic engine and form varies-from prose poems and free verse to villanelles, even a pantoum-these poems, like the orb they celebrate, also honor cosmic order and the need for order in the restless human mind."
-Catharine Savage Brosman "The Night's Magician is a fascinating collection of poems that sparkle with imagination and shared love for the orb we all know and love. These poets raise the bar as they focus on the moon with a shared reverence and awe. They make our hearts beat faster and truer with the beams of their poetry. Sue Walker and Philip Kolin have crafted a truly beautiful anthology in which poem after poem folds itself around the ever familiar, intimate presence of the moon."
-William Ferris "This brilliant collection is a demonstration of the universality of the poet's gaze at the moon. Along with the human heart, the moon is perhaps the most suited for consideration by the poet-a pool and a mirror, our closest yet unreachable neighbor. Sharing their visions with us the poets in The Night's Magician demonstrate the universality of the moon, our shared neighbor and mirror to us all."
-Carlos Dews "If you are old enough to remember 1953, Dean Martin crooning When the moon hits your eye like a big pizza pie, that's amore, you will fall in love all over again when your eyes feast on poems in The Night's Magician. Some poems explore the moon's relation to earth and create hymns to our life on this planet. Other lush poems look closely at the natural world and the moon's physical cycles to see how they each reflect an individual life. Several poets depict its gravitational pull that produces ocean tide, body tide and the slight lengthening of the day. Others delve into the moon's mysterious indifference, what it coolly withholds, a puzzle that can't be solved, that prompts dogs to bay their hearts out. All in all, The Night's Magician provides a torch that the heart can follow through the darkness."
-Vivian Shipley.
Negative Capability Press, 9780998677743, 142pp.
Publication Date: July 17, 2018