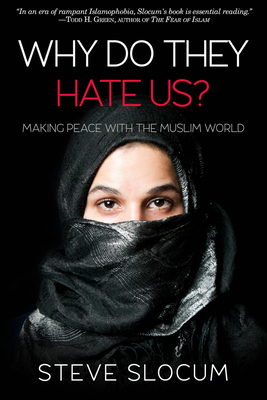 Why Do they Hate Us?
Making Peace with the Muslim World
Paperback

* Individual store prices may vary.
Description
IPBA BENJAMIN FRANKLIN AWARDS SILVER MEDALIST
A BOOKLIST AND KIRKUS BEST BOOK OF 2019

"Well-researched, cogently argued… avoids clichés and deeply examines the complex relationship between Islam and the West."
—Booklist, starred review

White supremacist racism has many faces. A foreign policy that focuses on "American interests" and exploits foreign resources is one of those faces. Nowhere has this become more evident than in the Middle East.

Decades of covert intervention by the CIA in the Middle East came home to roost when Al Qaeda operatives hijacked American airliners and flew them into the World Trade Center towers on 9/11, horrifically killing 3000.

With Americans still in shock, George W. Bush asked, "Why do they hate us?" His bizarre answer, "They hate our freedoms," squandered an opportunity for national introspection. Instead, he unleashed the power of a $330 billion "defense" budget on the villages of Afghanistan and subsequently on Baghdad.

In the years after 9/11, Islamophobia became a mainstay in American society and in American political rhetoric. It was the unfettered hate speech toward Muslims that opened the door for closeted racists to come out into the open with hate speech toward all nonwhite groups.

In Why Do They Hate Us?, author Steve Slocum brings to light Islam's origins as a social justice movement and paints a beautiful portrait of Islam's peaceful mainstream. Why Do They Hate Us? is sprinkled with stories from the lives of everyday Muslims and anecdotes from Slocum's five years living in Kazakhstan, allowing the reader to catch a glimpse of the true soul of Islam. You'll never look at Muslims in the same way again.

"In an era of rampant Islamophobia, Slocum's book is essential reading."
—Todd H. Green, author of The Fear of Islam: An Introduction to Islamophobia in the West

"Effectively countering pernicious, misinformed narratives, this is an essential contribution to interfaith studies."
—Publishers Weekly
Top Reads Publishing, LLC, 9780998683867, 288pp.
Publication Date: July 16, 2019
About the Author
Steve Slocum took the adventure of a lifetime when he disappeared with his family of five in the Central Asian steppe as Christian missionaries to Kazakhstan. During their five years there, they were often on the receiving end of the iconic Muslim hospitality. It left a lasting impression. Once back in the states, Slocum resumed his engineering career, but grew uneasy with the growing levels of animosity towards practicioners of Islam.

In 2018, he founded Salaam, a non-religious, non-partisan nonprofit organization. Salaam's mission is creating mutual understanding between Muslims, Christians, Jews and the non-religious. Salaam's first workshop took place at All Souls' Episcopal Church in San Diego. Afterward, the rector, Rev. Joseph Dirbas, said, "In a world full of division, ignorance and hate, Salaam builds the bridge of peace with education and fellowship as we share our stories and work for the common good."

Slocum is a frequent speaker at churches and civic groups, and creates awareness events, mosque visits, and other connections through Salaam. Why Do They Hate Us? is his first book.