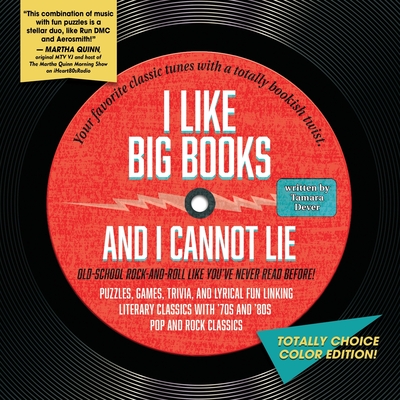 I Like Big Books and I Cannot Lie (Paperback)
Totally Choice Color Edition!
Narrow Gate Books, 9780998702322, 114pp.
Publication Date: May 18, 2020
Other Editions of This Title:
Paperback (3/25/2020)
* Individual store prices may vary.
Description
TOTALLY CHOICE COLOR EDITION
If musicians wrote career books, what might they be titled? (Doctor Doctor? Physical?)
If Kajagoogoo wrote a book, why would they decline an author interview? (They're Too Shy ) Which music video from Toto has the band playing atop a stack of books? (The answer's inside this book )
Don't miss this entertaining, brain-teasing book full of trivia, puzzles, and games that marry a love of books with a love of classic rock and pop from the 1970s and 1980s. Throughout this full-color edition, you'll find reimagined lyrics that appeal to the book lover and music lover alike and they're sure to make you laugh out loud. Trivia pages link books with musicians and songs from the '70s and '80s.
"I like big books and I cannot lie / You other authors can't deny / When a geek walks in with a giant tome / Or a textbook in your face / Then your tongue, gets tied in knots / And you know that text is hot..."
***Great gift for music lovers, trivia buffs, authors, musicians, Gen X. Fun book to keep on your tour bus