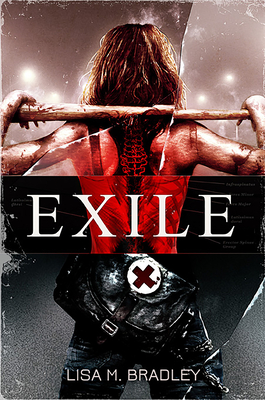 Exile
Paperback

* Individual store prices may vary.
Other Editions of This Title:
Paperback (7/23/2019)
Description
Twenty years ago, a toxic spill in the small, southwest Texas town of Exile poisoned residents with permanent rage. The feds' response? Quarantine. Only residents who pass the feds' 4-S test can escape Exile's heavily fortified borders. Heidi Palermo, unwilling medic to her family of bloodthirsty street warriors, has taken the test repeatedly, trying to prove she's smart, strong, sterile, and sane. Three out of four ain't bad, but the feds don't grade on a curve.



When her abusive brother dies in battle, Heidi turns her clinical eye to his killer. An Outsider who arrived post-spill, Tank seems open to Heidi's advances. Is Tank her ticket out of Exile? Before she can find out, the two are besieged by her vengeful family. Heidi must keep their blood feud from triggering a war with the feds if she wants to escape Exile. But Tank's about as trusting as Heidi is monogamous—which is to say, not at all. So Heidi's picked the wrong mark, her family is gunning for her, and the feds are itching to nuke Exile once and for all. Heidi's got her fourth S now: Screwed.
Rosarium Publishing, 9780998705958, 340pp.
Publication Date: July 23, 2019
About the Author
Lisa M. Bradley is a Tejana who grew up in deep South Texas, before the construction of the Border Wall. Not coincidentally, she writes about boundaries and those who defy them in works ranging from haiku to novels. Her work regularly appears in journals and anthologies. Her first collection is The Haunted Girl. In articles and conference presentations, she honors the often-overlooked speculative elements in work by Latina poets, including Gabriela Mistral, Sara Estela Ramirez, and Alfonsina Storni.