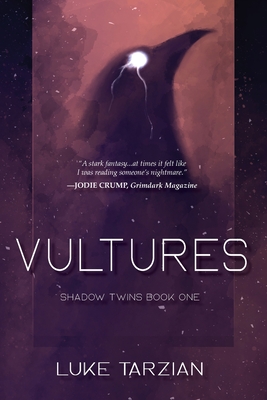 Vultures (Paperback)
Flintridge Bookstore & Coffeehouse, 9780998720579, 336pp.
Publication Date: May 28, 2019
* Individual store prices may vary.
Description
TRUTH FROM MADNESSIn Ariath, this is more than a simple adage. For Theailys An, they are words to live by, especially in the city of Helveden, where he and his demon brethren, the dissident, are looked upon with scorn. Viewed as cohorts of the dead progenitor of Ariathan suffering, they are outcasts.Still, Theailys has a job to do: destroy the Heart of Mirk r and end the war for good. Though Te Mirkvah l is dead, its progeny leak endlessly from the Heart, sowing death with their passage. With The Keepers' Wrath, a power focus of his own design, Theailys believes there is hope to restore peace to Ariath once again.But ending a war is easier said than done, especially for a man still haunted by past tragedies and occasionally possessed by a murderous presence keen to take his body for its own. As Theailys works to forge The Keepers' Wrath, amid a creeping shadow over Helveden, one thing becomes increasingly and horrifyingly clear: These events have played out many times before.
About the Author
Fantasy Author. Long Doggo Enthusiast. Snoot Booper. Shouter of Profanities. Drinker of Whiskey. These are all titles. Luke is the Khaleesi nobody wanted and the one they certainly didn't deserve, but here we are.
Praise For Vultures…
"Highly imaginative and powerfully original." -C.W. Snyder, author of RIVER OF THIEVES

"One of the most stunning debuts I've ever read." -Justine Bergman, FANTASY BOOK CRITIC

"Vivid characters and evocative magic woven together in a deep, intricate setting. A fantastic debut!" -Christopher Husberg, author of DUSKFALL