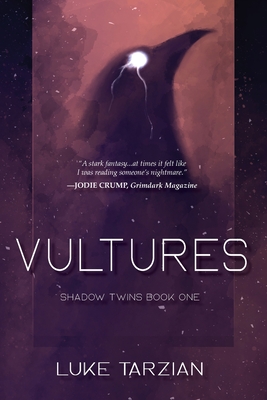 Vultures
Paperback

* Individual store prices may vary.
Other Editions of This Title:
Hardcover (3/19/2021)
Description
An enemy slain is not a conflict won...After decades of war the demon Te Mirkvah l is dead. But its progeny endure, spilling from the Heart of Mirk r, sowing death across the land of Ariath. If the people are to finally know peace, the Heart must be destroyed. Theailys An believes he can do just that with The Keepers' Wrath, an infamous power focus wrought in Ariath's yesteryears--but the weapon first must be reforged.War spares no one...Serece never intended to get involved in Ariath's war. But history and demons have a way of pulling strings. When she learns Theailys An, a man whom she abhors, bears striking similarity to the first creator of The Keepers' Wrath, Serece departs her mountain world for Ariath to ascertain the truth.From patience, hope...For millennia Behtr al has walked the world alone. Rewriting history to resurrect his people is easier said than done. But Ariath holds the key--soon The Keepers' Wrath will be remade.Truth from madness...As paths converge and a shadow falls across Ariath, one thing becomes increasingly and horrifyingly clear--these events have played out many times before.
Praise For Vultures…
"Highly imaginative and powerfully original." -C.W. Snyder, author of RIVER OF THIEVES

"One of the most stunning debuts I've ever read." -Justine Bergman, FANTASY BOOK CRITIC

"Vivid characters and evocative magic woven together in a deep, intricate setting. A fantastic debut!" -Christopher Husberg, author of DUSKFALL
Luketarzian.com, 9780998720579, 356pp.
Publication Date: May 28, 2019
About the Author
Fantasy Author. Long Doggo Enthusiast. Snoot Booper. Shouter of Profanities. Drinker of Whiskey. These are all titles. Luke is the Khaleesi nobody wanted and the one they certainly didn't deserve, but here we are.