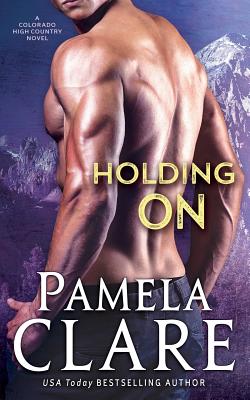 Holding On
A Colorado High Country Novel
Paperback

* Individual store prices may vary.
Description
A hero barely holding on...
p>Harrison Conrad returned to Scarlet Springs from Nepal, the sole survivor of a freak accident on Mt. Everest. Shattered and grieving for his friends, he vows never to climb again and retreats into a bottle of whiskey-until Kenzie Morgan shows up at his door with a tiny puppy asking for his help. He's the last person in the world she should ask to foster this little furball. He's barely capable of managing his own life right now, let alone caring for a helpless, adorable, fluffy puppy. But Conrad has always had a thing for Kenzie with her bright smile and sweet curves. One look into her pleading blue eyes, and he can't say no.
The woman who won't let him fall...
Kenzie Morgan's life went to the dogs years ago. A successful search dog trainer and kennel owner, she gets her fill of adventure volunteering for the Rocky Mountain Search & Rescue Team. The only thing missing from her busy life is love. It's not easy finding Mr. Right in a small mountain town, especially when she's unwilling to date climbers. She long ago swore never again to fall for a guy who might one day leave her for a rock. When Conrad returns from a climbing trip haunted by the catastrophe that killed his best friend, Kenzie can see he's hurting and wants to help. She just might have the perfect way to bring him back to the world of the living. But friendship quickly turns into something more-and now she's risking her heart to heal his.
Pamela Clare, 9780998749181, 348pp.
Publication Date: June 27, 2018
About the Author
USA Today best-selling author Pamela Clare began her writing career as a columnist and investigative reporter and eventually became the first woman editor-in-chief of two different newspapers. Along the way, she and her team won numerous state and national honors, including the National Journalism Award for Public Service. In 2011, Clare was awarded the Keeper of the Flame Lifetime Achievement Award for her body of work. A single mother with two sons, she writes historical and contemporary romance and romantic suspense at the foot of the beautiful Rocky Mountains. Visit her website and join her mailing list at www.pamelaclare.com.