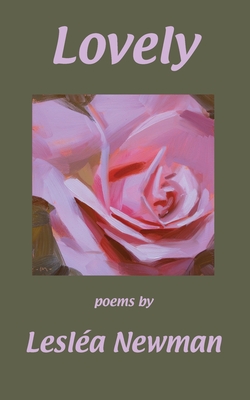 Lovely
Paperback

* Individual store prices may vary.
Description
"In her new collection Lovely, Lesl a Newman takes us on a long glittering walk through nostalgia, from her childhood memories in New York City, to silver sequined mini-dresses and steamy woman love. She holds up a world that is crumbling in our very sight. She holds us close as she guides us through the hardships of being homeless and displaced, being young and queer and still not accepted in our world. Her words are raw and tender, transparent and visceral. She holds nothing back. She aches with a vulnerability that both calls us out and challenges us to do our part to make our planet safe and inhabitable."
-Cheryl Boyce-Taylor, author of Arrival "Wise, sharp, sometimes rueful, often witty, always self-aware, Lesl a Newman's Lovely ranges across the landscape of human experience, reflecting on the moral complexity of childhood, the many phases of Newman's relationship with her mother, growing up and growing old, and the lifelong weave of sex and love. Lovely offers a kaleidoscope variety of forms, including ghazals, villanelles, and playful forms of Newman's own invention, such as 'My Mother's Stories, ' a marvelous portrait composed almost entirely out of soap opera titles."
-Joy Ladin, author of Fireworks in the Graveyard "Lesl a Newman lures the love poem into beguiling territory in her new collection Lovely. Funny, sassy, tender, Newman knows how to entice a line-with formal dazzle she gives us the beat of the repeat (the villanelle, the triolet) in her pitch-perfect, lucid voice. With a marvelous mimic's ear, she even conjures up her recently deceased mother's exasperating advice as feisty love-loss litanies. Newman examines the sheer loveliness of girlhood as she lived it and observes it now, reveling in the girly side of adult lesbian love in a woman's long relationship with her butch. As the poet leads us from childhood to the pleasures of mature love-yes, in a garden, too-she sketches a self-portrait over time, from makeup to curls. Calling all Lesl a Newman fans: alluring Lovely is a must for your shelf."
-Molly Peacock, author of The Analyst, Poems "Lovely is an adventure and a romp, a slide through loves, a trip back in time, a reflection of earlier days. There are poems where Newman allows us to hear her mother's voice, her admonitions, the Brooklyn accent, the cadences, the oft-repeated clich's, in a playful way. In the final section, we find an unleashed exuberance, a celebration of same-sex marriage, an all-abiding adoration for a life partner, and also, throughout, an over-arching love for life, for mangoes and chocolate, a 'Paradise Found.'"
-Laura Foley, author of Night Ringing "In this book, innocence yields to awakening, cruelty softens into compassion, and ever-present delight tussles with ever-looming death. Lovely offers tender requiems, taut memories, hot pink love letters, and odes to the edible. Poet Lesl a Newman writes with rhythm, humor, sensuality and care. Lovely is just that "
-Lenelle Mo se, author of Haiti Glass
Headmistress Press, 9780998761046, 110pp.
Publication Date: January 2, 2018