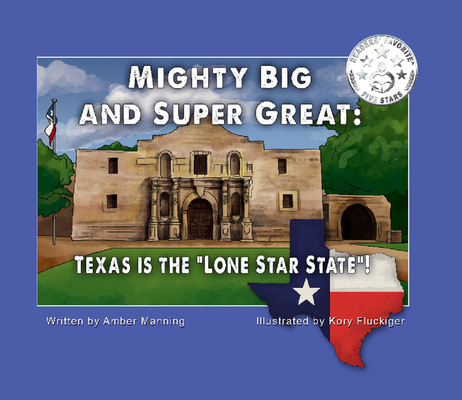 Mighty Big and Super Great (Hardcover)
Texas Is The "Lone Star State"!
Bluebonnet Kids, 9780998770444, 32pp.
Publication Date: November 2, 2017
* Individual store prices may vary.
Description
Get ready to take an ENTERTAINING and EDUCATIONAL stroll through TEXAS HISTORY while learning some FUN TEXAS FACTS along the way!! 
A TWO PART book. The first part is a rhyming and witty story that touches on some of the history of Texas while also introducing the importance, meaning and symbols that are relevant in our state. The second part includes 28 fun Texas facts mixed with more knowledge of fundmantal elements such as the Texas pledge and our state song. 
Incredibly illustrated, the pictures depict exactly what the author had probably envisioned when writing the book. 
Useful in English and History classes, it also adds some extra excitement for children who bore easily when learning the basics. The style of presentation creates an easy way to remember important facts.
An upbeat, rhythmic Texas history lesson!!!
About the Author
Amber Manning is an independent, working mother of 3 rowdy and
handsome boys. She has a "no-nonsense, never quit, make no
excuses" attitude and tries her best to stay positive throughout
life! Her main purpose in this world, she believes, is to raise her
boys properly, help others and make a difference!
She loves "the old school" way of living and believes that if more
people would have that attitude that the world would be a better
place! Born and raised in Texas, she is 100% Texan in heart! She
loves her family, water sports, outdoors, reading, camping,
bonfires, good music turned up loud and can sometimes be
eccentric. She knows it and her response is, "being normal is boring!"
She tries to always give the gift of a smile because she says she
hopes it "brightens someone's day!" She believes every single
person has struggles and believes the philosophy "you should
never look down on someone, unless it's to help them up!" Her
favorite story is the "Starfish Story" (you made a difference to
that one).
Children are her favorite people in the world and have been
since she was a child! They hold the most special place in her
heart. She has always loved to write and has wanted to be an
elementary or middle school teacher since she was 7 years old.
In her book, she gets to "teach" children about Texas!
Kory is a husband of a beautiful, supportive woman and the father of three wild children. They are easily the most creative thing he has ever been a part of. Beyond that, he just tries to do some art to feed them, and because he loves it! He is a universal creative with experience including fine art, illustration, graphic art and design, creative and experiential mobile app development, UI/UX design and game design. He delights mostly in creative collaboration and working with other creative people of various disciplines to make new and interesting diversions and expressions.