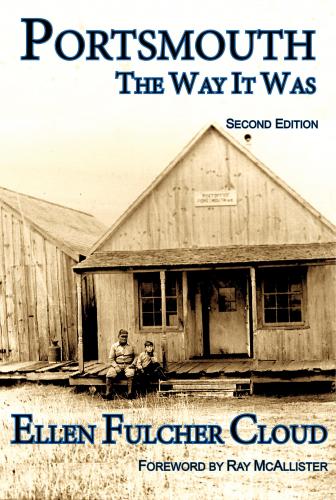 PORTSMOUTH
The Way It Was, 2nd edition
Hardcover

* Individual store prices may vary.
Description
The Outer Banks classic, "Portsmouth: The Way It Was," by the late Ellen Fulcher Cloud, long almost impossible to find, has been republished in an enhanced edition by Beach Glass Books.

The $19.95 hardcover tells the true story of "the ghost village of the Outer Banks." A small, now uninhabited island southwest of Ocracoke, Portsmouth Island was once a thriving seaport serving the North Carolina coast.

In the award-winning "Portsmouth: The Way It Was," first published in 1996, Ellen Fulcher Cloud recreates the island's early history based on previously undocumented information: records of storms, wars, and Federal occupation during the Civil War, along with numerous personal letters and photographs. Here, too, are the stories of America's first marine hospital, established on Portsmouth in 1820; of Dr. Samuel Dudley, the wealthy physician later in charge; and of John Wallace, the businessman "Governor of Shell Castle." We meet the brave members of the Life-Saving Service, the island's one black family, and Mrs. Mattie Gilgo, whose daylong interview describes Portsmouth life a century ago. We go inside the island's mail service and village school – and learn why this flourishing village emptied out after two centuries of existence.

"Portsmouth: The Way It Was," which includes a new foreword by award-winning coastal author Ray McAllister, has been republished in an enhanced edition. Included are more pages and photographs, enhanced photo reproduction and a keepsake hardcover binding. Ms. Cloud, who was involved in the early phases of the project, passed away in December 2016. The book was completed with the assistance of her daughters.

The book is available in many shops, through online sites, and at www.BeachGlassBooks.com.


Praise For PORTSMOUTH: The Way It Was, 2nd edition…
REVIEWS

THE SECOND UPDATED EDITION OF "PORTSMOUTH: THE WAY IT WAS" republishes a classic, enhancing it with new photos, information, and a hardcover edition intended for durable library lending and years of reference that should be in any collection strong in local North Carolina history.


Portsmouth Island was a small seaport which thrived for two centuries, but is now deserted. In 1996, Ellen Fulcher Cloud recreated its history from source materials ranging from letters and personal photos to historical records and archive materials, documenting not only the events that affected life on the island, from wars to storms, but providing (as much as possible) insights into the lives and experiences of island residents over the years.


A new foreword by coastal author Ray McAllister discusses how this out-of-print gem came to be reissued and surveys the author and historian's efforts to preserve local history in this book.


One might think, from this, that readers of "Portsmouth: The Way It Was" would need to have prior familiarity with the island in some way; but the fact is: even those with little knowledge of the island or North Carolina will find it an engaging local history key to understanding the early heyday of shipping in the region, the effects of war (which changed the island's population and purposes), and how this community receded in the face of too many obstacles to its lifestyle after the Civil War: "The days of shipping were gone and there was very little employment to be had. People returned, only to leave some years later to seek employment. There were those who knew no other life or wanted no other life. They returned. They were willing to take their chances, believing that peace and harmony would once again come to their town. Return it did, and year by year the popular declined so that peace and harmony became isolation and loneliness."


This poignant, absorbing story of a small town's changes and challenges as it faded into anonymity would have been lost were it not for Ellen Fulcher Cloud's efforts and those of her family and locals who assured that this edition, published posthumously, would mean that the experiences, lives, and history of Portsmouth Island would not die away into obscurity. Portsmouth: The Way It Was is a vivid local chronicle of changing small-town America. As such, it's highly recommended not just for North Carolina collections, but for any concerned with keeping regional American history alive.


-- MIDWEST BOOK REVIEW BOOKWATCH, D. Donovan, Senior Reviewer, September 2017




FROM THE READERS:


My daughter, Jennifer, and son-in-law Bill recently gave me "Portsmouth, The Way It Was" (2nd Edition), and I have been enjoying it greatly! Thank you, for getting this great publication back into print!

Growing up in Eastern NC, in the immediate New Bern area, I am very familiar with the areas east of New Bern, the Neuse River, Pamlico Sound, and the history of the Outer Banks, including the even more isolated Portsmouth Island.
Thanks, again, for getting it back out, and I can't wait to get "Topsail Island" in hand!


With highest regards,

David S.

Maryville, TN


This was a very nice historical look at Portsmouth, N.C. One of the reasons that this book is so good, is that there are lots and lots of records to look through. There are census records, hospital records, Civil War records, Land grant records, (even from King George II) and so much more. It also includes a lengthy interview with one of the long-time residents of Portsmouth. There is just a small treasure of things here to look over. Perfect for history lovers of the East Coast, and history lovers in general.



Steve M.

Brookings, SD

on Goodreads


[5-star review, for the first edition]

I volunteer with the National Park Service at Portsmouth Village. This book … greatly supports my interpretation talks to visitors.The information supplied by the writer is the real side of this village, now empty. It's amazing how it's existed since 1753."


--Kenneth R. Nunnon
Beach Glass Books, 9780998788104, 208pp.
Publication Date: November 30, 0002
About the Author
Ellen Fulcher Cloud is the author of three books, including Ocracoke Lighthouse and Old Salt. A native of Ocracoke Island, she was a local historian, preservationist and genealogist, as well as an accomplished sketch artist.
or
Not Currently Available for Direct Purchase