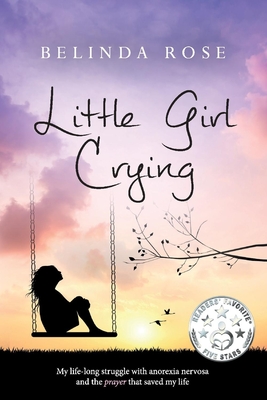 Little Girl Crying
My Life-Long Struggle with Anorexia Nervosa and the Prayer that Saved My Life
Paperback

* Individual store prices may vary.
Description
I'll bury the pain deep, deep downSo deep that it can't be foundIt will not see the light of dayIf it seeks release I'll purge it awayI'll starve the life right out of itAnd lull the pain a little bitI'll beat the pain … the anger … fear'Till 'It' or 'I' just disappear.Abused at home, bullied relentlessly at school, and raped by someone she loved and trusted, Belinda Rose found her emotional pain too much to cope with, and thus began the fight of her life against two dark adversaries: Anorexia Nervosa and Depression. For nearly 38 years, she found herself locked in a life and death battle with an eating disorder intent on destroying her mentally, physically and spiritually. Near death multiple times, and at one point hospitalized 13 times within the span of a year and a half, doctors all agreed she'd never overcome the eating disorder and would likely die from it. It would take nothing less than a miracle for her to find the recovery that seemed impossible. She felt lost, alone and at the mercy of an illness intent on her destruction. All hope seemed gone, or was it?As a small child, Belinda had found comfort and sanctuary from those that abused and bullied her in the arms of her imaginary friend, Jesus. It would be the deep love and devotion she'd felt for Him since childhood that would lead her on a journey of prayer to an incredible spiritual experience that would miraculously still the Voice of Anorexia, lift the darkness of depression and transform her life setting her on a new path.Little Girl Crying is a story of survival. It's a story of God's love, mercy, and amazing grace, that affirms God is with us even when He is silent. But most of all, it is a message of hope and encouragement to all that suffer that says never give up, because our God is a God of healing and miracles!From every chapter beginning with a Bible verse and an inspirational poem to ending with a prayer, to the over 40 compelling, original, and often heart-wrenching black and white illustrations, Little Girl Crying is so much more than just another eating disorder memoir, but a sense-evoking, spiritually uplifting experience that meets each of us in our own personal suffering. This is a story that is a wild ride on an emotional roller coaster, and yet, a spiritual journey full of hope and miracles that speaks to perseverance, the power of prayer, and God's silence amid our suffering. The author shares deep insights into the heart of anorexia nervosa?the insidious voice, that torments and tortures its victim's psyche relentlessly. She also offers a short and special section at the end of the book with insightful suggestions for family and friends of ways to support those that are suffering with an eating disorder. While Little Girl Crying takes the reader deep into the heart of suffering, it also reflects on where God is in the midst of our suffering, why He allows it, and how we can find both a deeper purpose for it and the blessings in it. It is no wonder Little Girl Crying has been called a modern day Pilgrim's Progress.
Praise For Little Girl Crying: My Life-Long Struggle with Anorexia Nervosa and the Prayer that Saved My Life…
"Contemplative prayer is a journey into the heart of God, where we find true healing from the pain, trauma, and wounds of our lifetime. That is the essence of Little Girl Crying. Belinda Rose gives testimony with her life story to the work of divine love, mercy, and amazing grace, and to the power of contemplative prayer to transform, restore, and even resurrect the most broken of lives. A compelling and inspirational memoir, Little Girl Crying offers hope for a suffering world."
— Fr. Richard Rohr, OFM, Center for Action and Contemplation, author of Falling Upward and Immortal Diamond


"Belinda Rose takes us on a powerful journey as she travels a tortured path toward healing and transformation going through the pain of trauma and abuse to discover the experience of ultimate love. A modern Pilgrim's Progress."
— Janice Morgante, Executive Director, Riverwalk Eating Disorders and Wellness Centres, www.riverwalkwellness.ca


"Little Girl Crying is an unforgettable memoir of hope and great faith. It is impossible to put down and the compelling writing takes you deeper and deeper into Belinda's heart, and her quest to find solace and comfort in contemplative spiritual life-saving messages. This book will enlighten everyone who reads it as it is a story of great courage and potent miracles. It is not just a portrayal of a woman with an eating disorder but an inspirational journey for everyone who encounters human suffering and seeks to be healed. This book will help millions of lost souls become whole again."
— Gail McMeekin, LICSW, Creative Success LLC, author of The 12 Secrets of Highly Creative Women



"Belinda's trials of unspeakable darkness and triumphs of ineffable grace will inspire you. Please read this book."
— Bud Macfarlane, President, The Mary Foundation



"For those of us who look to contemplative prayer for comfort and healing, former anorexia nervosa sufferer Belinda Rose shares a lifetime of heartbreaking traumas and offers a startling testimony to grace beyond our understanding."
— Janet Conner, author of the bestselling Writing Down Your Soul and creator/host of The Soul-Directed Life radio show.

BookBaby, 9780998840116, 478pp.
Publication Date: August 11, 2018
About the Author
Belinda Rose is an inspirational author, poet, and creative. She overcame a decades-long battle with anorexia nervosa, bulimia and deep depression through the healing and transformational power of contemplative prayer. Near death multiple times, her story of survival is a testimony to the power of God's unfailing love and amazing grace. Amid an abusive childhood, she felt a deep devotion to Jesus, where He soon became her dearest friend and lifeline. Through God's grace she was drawn to contemplative prayer. Belinda attributes the miracle of her healing to the power of experiencing God in this deep, meditative prayer. As a Christian Contemplative, she believes it is by resting in God in the silence – the journey within – that sets God's divine action to work within us to allow true healing of the wounded heart, mind and soul to occur.She is the author of the vibrant online prayer community Illustrated Devotions, a prayer ministry where she shares daily prayers and devotions, and offers intercessory prayer for those in need. Through her ministry she seeks to inspire and encourage those who suffer by ultimately leading them into a deeper intimacy with God through prayer. Belinda Rose is devoted to her Catholic faith, the Sacred Heart of Jesus and Eucharistic Adoration. When she isn't writing, Belinda loves spending quiet time in nature and adores animals of every kind. Born and raised in the Midwest, she still lives there with her husband and three sons. Together they enjoy the companionship of their five cocker spaniels, three cats and Buster the parrot.To become a part of her devotional community, visit her Facebook fan page at www.facebook.com/illustrateddevotionsBelinda's devotional writings and art-prayers can be found at www.belindarose.com
or
Not Currently Available for Direct Purchase