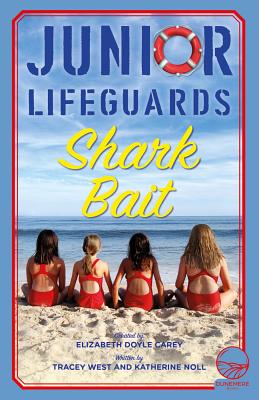 Shark Bait (Junior Lifeguards #3) (Paperback)
Dunemere Books, 9780998885117, 204pp.
Publication Date: June 20, 2017
* Individual store prices may vary.
Description
Brought to you by the writers of the best-selling CUPCAKE DIARIES series… The new JUNIOR LIFEGUARDS series is wholesome summer fun for young YA readers! 

Dive right in with the brave, diverse girls of the Junior Lifeguards as they continue their summery adventures on Cape Cod, where ice cream, miniature golf, and sand-between-your-toes combine with beachfront bravery and life skills for wholesome summer days and nights!

In SHARK BAIT, local stablehand Piper Janssens is struggling to feel confident in her new role as a lifeguard. Her natural strength, good instincts and work ethic make her a standout rookie on the squad, but her insecurity could be her undoing. Add to that an ethical dilemma with a senior guard texting on the job, a catering gig gone wrong, and some near misses with sharks in the wild, and this book will have readers' pulses racing! Mentor and cutie Luke Slater is both wise teacher and crush in this story, where Piper learns to trust herself and follow her gut. Shark Bait is about paying attention, having confidence, following tough rules, and giving a job your all. It's also about dinner picnics, chowder tastings, summery shopping and cute boys on the beach. 

Junior Lifeguards are #brave and #strong. Join the squad!
About the Author
Elizabeth Doyle Carey is a former book editor and bookseller. She is the author of 33 books for young readers including 15 titles in the Cupcake Diaries series and 4 titles in The Callahan Cousins series. She lives in New York City. Tracey West has written more than 200 books for children and young adults including How to Draw Pokémon and the Dragon Masters series. She lives in Pearl River, New York. Katherine Noll is the author of Animal Jam, Big Book of Activities, and Sailor Scouts Unite!. She lives in Bethlehem, Pennsylvania. 

Praise For Shark Bait (Junior Lifeguards #3)…
#27 of Book Riot's "100 Must Read Middle Grade Books for the Summer"

"Delivers believable surprises…authentic…An enjoyable start to [an] engaging series for tweens."  —Kirkus Reviews on The Test

"Brings to mind the cheery "it-all-ends-well" tone of books from another era…brimming with wholesome tween drama."  —School Library Journal on The Test

"This is a great summer read…nicely diverse…Definitely a fun series, both for fans of beach life and for those of us in landlocked areas who only get as far as the beach on a lake!"  —Mrs. Yingling Reads on The Test

"Fun new summer-read series…relatable and engaging."  —NetGalley children's librarian review on The Test