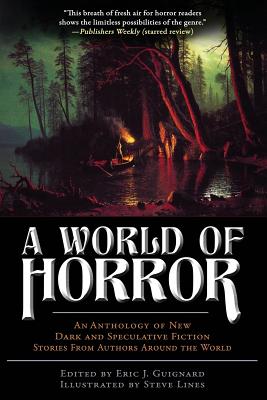 A World of Horror
Paperback

* Individual store prices may vary.
Other Editions of This Title:
Hardcover (9/10/2018)
Description
Every nation of the globe has unique tales to tell, whispers that settle in through the land, creatures or superstitions that enliven the night, but rarely do readers get to experience such a diversity of these voices in one place as in A World of Horror, the latest anthology book created by award-winning editor Eric J. Guignard, and beautifully illustrated by artist Steve Lines.
Enclosed within its pages are twenty-two all-new dark and speculative fiction stories written by authors from around the world that explore the myths and monsters, fables and fears of their homelands.
Encounter the haunting things that stalk those radioactive forests outside Chernobyl in Ukraine; sample the curious dishes one may eat in Canada; beware the veldt monster that mirrors yourself in Uganda; or simply battle mountain trolls alongside Alfred Nobel in Sweden. These stories and more are found within A World of Horror: Enter and discover, truly, there's no place on the planet devoid of frights, thrills, and wondrous imagination
Table of Contents includes:
"Introduction: Diversity in Fiction" by Eric J. Guignard
"Mutshidzi" by Mohale Mashigo (South Africa)
"One Last Wayang" by L Chan (Singapore)
"Things I Do For Love" by Nadia Bulkin (Indonesia)
"On a Wooden Plate, On a Winter's Night" by David Nickle (Canada)
"Country Boy" by Billie Sue Mosiman (United States of America)
"The Wife Who Didn't Eat" by Thersa Matsuura (Japan)
"The Disappeared" by Kristine Ong Muslim (Philippines)
"The Secret Life of the Unclaimed" by Suyi Davies Okungbowa (Nigeria)
"How Alfred Nobel Got His Mojo" by Johannes Pinter (Sweden)
"Sick Cats in Small Spaces" by Kaaron Warren (Australia)
"Obibi" by Dilman Dila (Uganda)
"The Nightmare" by Rhea Daniel (India)
"Chemirocha" by Charlie Human (South Africa)
"Honey" by Valya Dudycz Lupescu (Ukraine)
"Warning: Flammable, See Back Label" by Marcia Douglas (Jamaica)
"Arlecchino" by Carla Negrini (Italy)
"The Man at Table Nine" by Ray Cluley (England)
"The Mantle of Flesh" by Ashlee Scheuerman (Australia)
"The Shadows of Saint Urban" by Claudio Foti (Italy)
"Warashi's Grip" by Yukimi Ogawa (Japan)
"The White Monkey" by Carlos Orsi (Brazil)
"The West Wind" by David McGroarty (Scotland)
Dark Moon Books, 9780998938318, 330pp.
Publication Date: September 10, 2018